Mobilink is one leading and old telecommunication companies in Pakistan. It is famous among the people of Pakistan due to their best customer service. The innovation of the new technologies in telecommunication and invention of 3G and 4G mobilize this company to do work for the high speed internet. Mobilink always trying to provide the attractive and wonderful offers for mobile lover and now this time Mobilink has been introduced 3G internet bundles daily in just paying only Rs. 15. Through this offer customer can used 3G unlimited high speed internets and keep connected with their loved ones and also facebook, internet browsing, mail check, download movies, listen music and do each and every thing according to your choice on their mobile phone. Customers can activate this offer just dial *117*1#. The customer wants to get 3G service on their Mobilink SIM just dial *443# and selected 3G option and there is no any activation charges. This offer provides the facilities to their customers to inform through SMS before one an hour ending of their reaming internet bundles and offers 1000 MB 3G internet. This is very wonderful and amazing offers for those customers that are use all time internet on their mobile and this offer valid for all 3G prepaid customers only.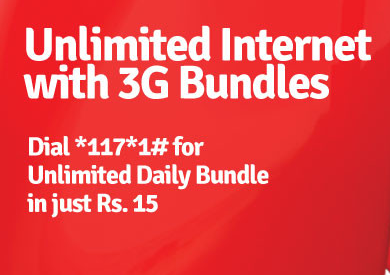 Activation Procedure:

Dial *117*1# and get unlimited daily bundles.
Check Bundles Status:
To check their reaming 3G internet bundles just dial *117*1*2#.
Terms and Conditions:
All taxes are applying on this daily internet bundles.
Its necessary that one must has supported 3g or 4g Handset.
Its also too much important that one must reach to those areas wher jazz 3g start their working.