In time, Cadet College Swat has offered Cadet College Swat 1st Year Admission 2020 for the students, and for this, first of all, get the form and appeared in the entry test good preparation to take the result in your favor. All those candidates who are willing to get admission in Cadet College you can get all the details about it. This year Cadet College Swat has notified the admission in the month of June and a number of students take part in it. This college has a clear vision to become the center of excellence and intellectual growth by fostering intellect and creativity. This is the best premier institution of its kind which was established as per the vision of Chief of Army Staff of that time. In establishing the CCS the Government of Khyber Pakhtunkhwa supported them. There was a great sacrifice by the people behind making the CCS in the War against terrorism.
Cadet College Swat 1st Year Admission 2020 Form:
The particular last date to get the form of Cadet College Swat 1st Year Admission 2020 is 11 July. One thing to notice is that these admissions are only for boys and only a limited number of seats are allocated this year.
One can get the admission form of Cadet College Swat from the official website of this institute and send it along with the receipt of 2200 deposited to UBL Khwazakhela Swat from all over the country in terms of the registration fee.
As the peace was appropriately conceived by the Military authorities to develop the excellence in the area which could prove a breeding place for the youngsters of Swat, Malakand, and KPK in specific and for whole Pakistan in General. So that was the short intro of the place where you want to get admission in the year 2020.
Eligibility:
Candidates want to get admission in 1st, years must have the age of 15 to 17 years till the date of 11 July.
Those students who have participated in their matriculation and have passed 9th class with a minimum of 70 perc are invited.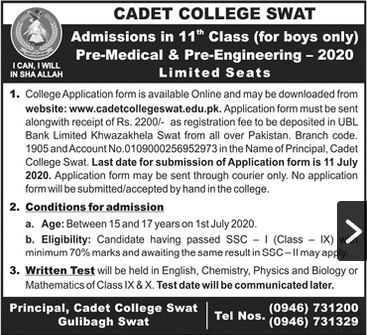 Cadet College Swat Entry Test Result 2020 1st Year:
Yet, the date for Cadet College Swat Entry Test Result 2020 1st Year has not showcased. But the syllabus of this test is quite clear that is the English, Maths, Chemistry. Bio and Physic of the last 2 classes. So just revised them and appear. For other related requests, their number is also on the above admission notice. Furthermore, everything is clear here.