Here we will discuss chicken curry recipe Pakistani style. In Pakistan, every person would love to eat chicken curry. Almost every woman knows that how to make curry recipe. There are many types of curry recipes are available but the most common and popular is the chicken curry recipe. In this post, we will discuss the main ingredients and method for making the chicken curry are as follows:
Chicken Curry Recipe Pakistani Style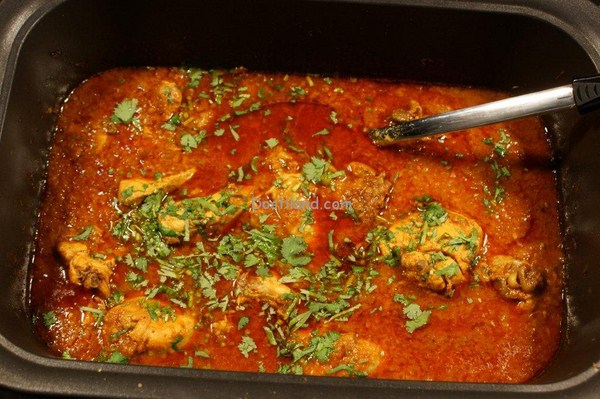 Ingredients:
The main ingredients for making the chicken curry recipe Pakistani style are as follows:
Half kg chicken.
100 ml of onion paste.
50 ml yogurt.
1 tablespoon of coriander powder.
4 tablespoon of salt.
¼ tablespoon of haldi powder.
1 tablespoon of chili powder.
1 tablespoon of garlic paste.
1 tablespoon of ginger paste.
100 ml oil.
2 chopped green chilies.
1 tablespoon of garam masala.
2 green cardamom seeds.
1 small stick of cinnamon.
10 black pepper.
8 cloves.
2 tablespoon of fresh coriander leaves.
2 tablespoon of chopped green chilies.
Method:
Now we would like to mention important instructions for making delicious and tasty chicken curry recipe. The main instructions are as follows:
The most important and foremost instruction is that you should fry onion paste into the oil to the light brown and then add ginger, garlic paste, yogurt, chili powder, turmeric powder, tomato and salt.
The next instruction is that you should mix all the ingredients and then fry briefly and then add the chicken.
Moreover, you should mix it and then cook it for at least 15 minutes till the chicken becomes tender. Afterwards, you should add water according to the required consistency.
The next step is that you should garnish with green chilies, green ghaniya leaves and garam masala. In this way you chicken curry is ready.
After cooking the tasty chicken curry recipe, you should serve with the nan or boiled rice. So all house wives who want to cook chicken curry then should follow the above mentioned recipe. This recipe serves for almost 4-5 people. We are completely sure that by adding all the ingredients you will surely cook chicken curry in a perfect and incredible way. Finally, we can say that after adding all the ingredients and strictly follows the instructions you will surely cook the chicken curry.