From cost to requirements, everything about the procedure that how to get Allied School Franchise? is very clear. In Pakistan, a good schooling is the main motto of people. Now a day in every field you need a solid base to gain success for making your future bright. That's why; the selection of an appropriate school is really important. For this purpose, Allied School is a well-known brand that served in the education sector for the last many years. Recently, they promote their franchise offer with the title of "Be Our Partner to Promote Education". Besides educational benefits, it's really fruitful for the investor to invest their money in a well-known institutes chain. But for this, it's needed to know the requirement and other things like cost and the process.
How to Get Allied School Franchise?
Everything is in the following table that specially cover the way how to get Allied School franchise? and all other basic criteria about it.
Education is compulsory for all poor or rich all kind of community. Education gives knowledge of how to survive in society how to compete in front of other political socialization. Because we are facing too many difficulties day by day as we are moving to modern generation so it's compulsory to come forward and stand for our step towards education.
Allied school is one having a powerful and best economic system. The key to their success is that they never compromise on role and regulations.
Allied School Franchise Cost:
After the recent pandemic the Allied School franchise cost has fluctuated but how much they are is not clear. On contact with the official, they will effectively guide in this regards.
| | | | | | |
| --- | --- | --- | --- | --- | --- |
| School Type | Till Classes | Franchise Fee | Tuition Fee Percentage | Admission Fee Perc | Annual Subscription Fee |
| Primary Level | Till 9th Class | 7Lac(Lifetime) | 10% | 10% | 10% |
| Elementary Level School | Till 12 Classes | 9Lac(Lifetime) | 10% | 10% | 10% |
| Comprehensive Level School | Till 14 Classes | 10Lac | 10% | 10% | 10% |
Allied School Franchise Requirements:
Further, take a look at the Allied School franchise requirements that is necessary to full fill to become partner. Hopefully, the pic will also help you to understand the information. .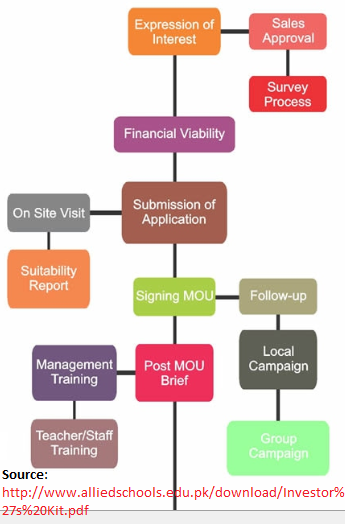 Requirements:
1: Location of site is really important to get a franchise, that why initially officials will conduct the survey to check the site and then building.
2: Secondly one must need to clarify the financial analysis. This is important that one will afford the expenses or not.
3: Third imp requirement is the signing of MOU.
At last its necessary to organize a training session for teacher and staff that will know about the entire criteria. After this one will get an authority to operate the campus. But the inspection team of Allied School has all the rights to visit the campus at any time. Hopefully, now confusion regarding how to get Allied School franchise? and also related cost and requirements has ended up now and if you are interested then start work on it.