For the seek of 2018 undergraduate program admission in NUST, registration for (NET-1) entrance test has now opened up. As per schedule, it's necessary to get and submit application form from 1 to till 20 NOV 2017. In this time frame one has option of online registration. By following this process, a user name and password is issuing to applying candidate. Then by entering both of these thing on official page in given spaces one can get option of downloading form. So all desired individuals that want to appear in this test must complete their registration before given date. This is one obligatory requirement to get admission at this place, so must prepare you with positive mind that one must score excellent marks in it.
Important instructions related to this Test

:
This is computer bases test that will held in Islamabad.
If this is your secondary attempt, then highest marks will consider for admission purpose.
Mean while for all those who appear for the first time has option to appear in next test.
HSSC courses will cover the entire syllabubs of this test. So its need to revise your previous studies.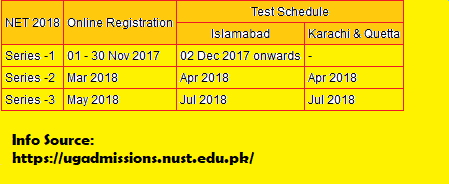 If one sees the details of NET 1 then this will too much important in order to get admission in Nust. There are total three sessions for NET test and this is first one after which two are remain but every session is equally important for admission. In creating of final merit list and making of aggregate, marks of this entry test has major weightage. So it's necessary to get good marks. And for this its preparation is also equal important.
Without proper preparation, it's not possible to get good marks. So must give solid attempt and make your future bright by getting admission in NUST.  All the best wishes for all those candidates that are going to give NUST Entrance Test (NET-1) but they must complete their Registration and Application Form before given date in 2017. Other wise one will fail a chance of 2018 admission. So make a proper plan and execute it in right way.