Download Application Form from BOP Bank of Punjab of PLDC Ashiana Housing Scheme Lahore 2014 15 and submit it before Last Date. The government of Punjab has been announced the Ashiana Housing scheme Lahore 2014 for the citizen of Punjab. This project started first time in the history of Pakistan and through this scheme the people lives in the Punjab and having less income becomes the owner of their own house. This scheme is totally based on merit which is initial part of the government of the Punjab. This first part of this scheme started near of the Allama Iqbal Airport form Lahore and name is Ashiana Iqbal and this is the ideal location and the choice of every person that's really known about this area. The interested candidates must fulfill all condition must be submitted their application form at least 22 December, 2014. This hosing scheme started with the contribution of the BOP (The Bank of Punjab) and the application form is available on all branches BOP. This Ashiana scheme stated from only on just Rs. 8000 per month installments and becomes the owner of their apartments in this excessive and modern age and these installments totally based free from interest.
Last Date for Submission of Form: 22 December 2014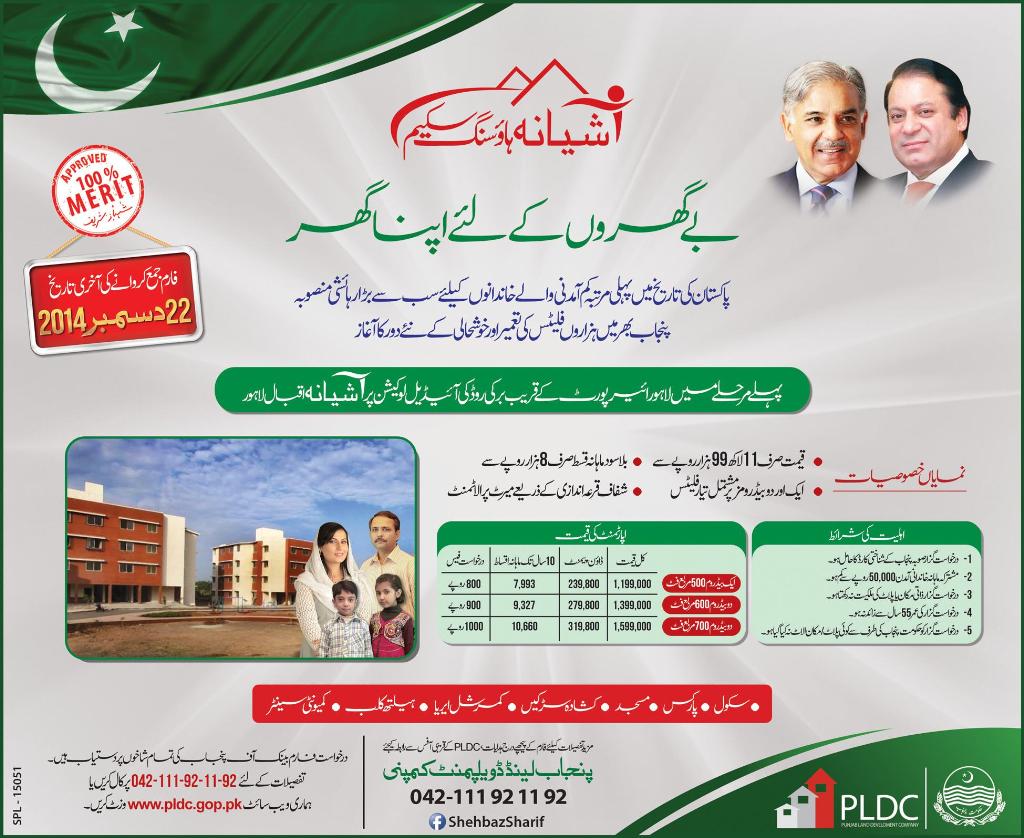 Application Form are available at all branches of Bank of Punjab that are not available online one can get it by visiting any branch…..
Eligibility Criteria:      
Total monthly income must be less than 50,000.
Must be having Punjab Id card.
Candidate is not owner of their house or plot.
The age of candidate must be less than the 55 years.
The candidate not having allotted house already by the Government of Punjab.
The aim of the government of the Punjab to support the merit and all application based on lottery and whole process is totally based on merit. This is the golden opportunity for those families that are having less income and want to become owner of their apartments in city of Lahore where the property rate is very high and the government of Punjab provides the relief for only the people of Punjab because the vision of the this government to serve the humanity in different kinds of ways. So all those that want to get home in Ashiana Housing Scheme Lahore submit their Application Form 2014 15 before last date.