Shahbaz Sharif Chief Minister of the Punjab started the laptop scheme 2014 for Matric students in the first time in the history of Pakistan. This time date distribution will going to Lahore Multan Lodhran Boys Colleges where eligible students can get opportunity for this laptop. This scheme provides the free distribution of the different cities of Punjab. This laptop schemes announced for those students they study having minimum 78% marks in their matric degree and also for those students are brilliant in their education. The aims of the government of the Punjab to educate all over the Punjab and provides the different kinds of facilities for the students. This laptop schemes is continues in different kinds of phases and through this scheme 100,000 laptops will be distributed in all over Punjab. Shahbaz Sharif laptop scheme is totally based on merit and promoted the modern information technology in positive and practical manners. The vision of the government of Punjab to introduced the latest technologies for the students that are very helpful in the study and their bright future.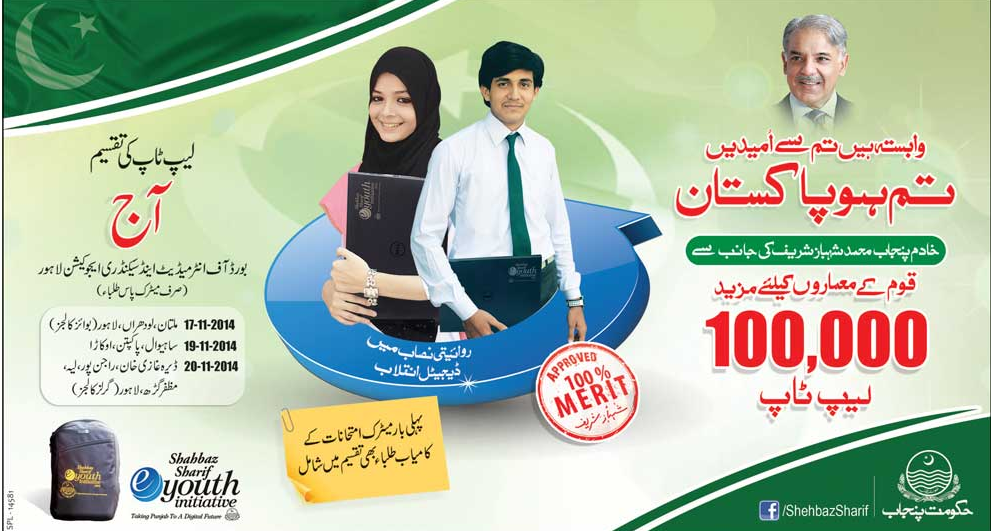 Multan, Lodhran Lahore at Boys Colleges: 17 November 2014
There are some sources said there are millions of students getting admission of the governments schools and they belong to poor and middle class families and they fond of in study but they don't having resources to used advanced technology and this laptop scheme also those students they brilliant on their study and want to used laptop that's need of this modern age. Those students which are doing job in government and private sectors don't eligible for laptop scheme. Chief Minister of Punjab decided to use heavy amount to the bright future of Punjab every year and also stated different kinds of schemes like this laptop schemes. There are some cities of Punjab started the commoner of this laptop scheme and where Chief Minister of Punjab personally participated this ceremony and distributes the laptops among students.