Have to ever feel disturbed when the mehndi color gets stick with your hairs and hands forever? There are many women around us who apply Mehndi in their hairs just because it is in the fashion. But suddenly when they come to know that it is eventually not setting well with their personality then what will they actually do? In the same way if you have the wedding ceremony in the house and next day you have to attend the office then you would feel little hesitate by showing huge sum of Mehndi designs on your hands. There is no doubt about it that every woman feels affection to apply the Mehndi on her hands and hair but sometimes they need to get rid of the Mehndi as soon as possible. Well in this article we are discussing some of the main steps that would certainly help the women to remove down the color of mehndi from their hairs and hands as quickly as possible.
How To Remove Mehndi Color From Hands And Hair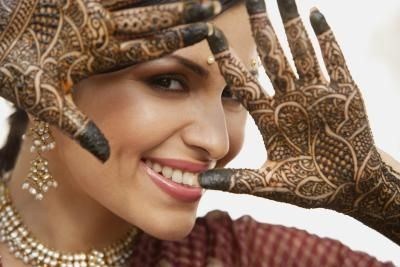 For the hairs just wash them properly and dry them fully and don't apply anything removing solution until it didn't get dry properly.
Now take some hair clips and separate the hairs in equal length. Now take a bowl and add some alcohol in it. After it take some cotton pads and dip them in the alcohol. Now apply all such cotton pads inside the hair scalp.
Now after you are finished with the alcohol application just cover the head because it smells may appear as stinking. Now sit under some hot sun or hot dryer for 30 minutes.
Now wash your hairs again and shampoo them two times. Now dry the hairs fully.
Now when you feel that the color is still appearing in the hairs then apply the alcohol once again.
Well this was all for the mehndi color removal tips from hands and hair. Here we would like to mention one thing that removing the color from hands and hairs covers the same guidelines. However, still as compare to the hands the color removal from the hairs is much time consuming.  Make sure that the alcohol is not harmful and don't allow contacting with the eyes or skin as it can appear to be dangerous. Soon the whole we would say that all the women with such troubles just follow the tips and we are sure that you will definitely get back with the previous hair color.