The topic here we will discuss is Chicken Manchurian by Chef Zubaida Apa that's method is Method: First of all wash chicken and add in vinegar, soya sauce, salt, sugar and corn flour 1 tbsp mix all ingredients in chicken and leave it for half hour. Put an iron plate on low flame and heated it. After this take a karahi and put this on stove add in oil .When oil heated  add in ginger garlic paste fried this paste for few moment then add onion ,when it became pink then  make sauce with tomato sauce, white pepper and pine apple juice. Take another fry pan and fried chicken in this pan and add chicken in sauce. Fried for few minutes  then add pine apple cubes and add corn flour mix with water, fine flour mix these ingredients with dipper again and again. After some time chicken Manchurian is ready.
Chicken Manchurian by Chef Zubaida Apa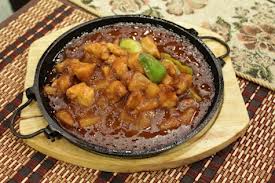 Total procedure that how Chicken Manchurian by Chef Zubaida Apa is given there..
Ingredients:
Bone less chicken half kg(in cubes)
Onion 1
Tomato sauce half cup
Pine apply juice half cup
Salt to taste
White vinegar
White pepper 1tsp
Ginger garlic paste 1tbsp
Sugar 1tsp
Pine apple cubes 6
Corn flour 2tbsp
Soya sauce 2tbsp
Chicken cube mix fine flour 1tbsp
Oil 2tbsp
Serves.5 people
Nowadays people like to eat Chinese dishes. An important thing which is best that is in Chinese recipes oil use in a very little quantity. Mostly use vegetables and spices use in low quantity. These recipes are fresh and tasty and cooked these recipes very easy. Mostly women try to cook these recipes at home. Keep in mind three things when you cooked Chinese recipes. First is always use best quality soya sauce and use white vinegar .Don't overcook vegetables and ghee. This recipe is cooked by Zubaida tariq. Zubaida Tariq is often called Zubaida Aapa.She is one the most famous chef in Pakistan. People like their recipes because it's easy to cook. She are doing a cooking program Handi on Masala TV.