Punjab Green Tractor Scheme 2012 CM Shahbaz sharif for formers;This Tractor Scheme offers 20 thousand tractors on the base of 2 Lakh subsidy. This is an Program launched by Government of Punjab for young farmers lie under the age between 18-35 and both males and females of this age are eligible to apply for this Scheme. The candidates who does not avail tractor before this time in 1998-1999,2008-2009,2009-2010 can only apply this time. For the clear and systematic process Chief minister Shahbaz Shrif does not allow that relatives of MBA's MNA's,District,Tehsil and officers of 17 grades can apply for Punjab Green Tractor Scheme 2012-2014.
Application form can be obtained from www.agripunjab.gov.pk and candidates don't need to worry they can submit Photo copy of form which is acceptable.This is an revolutionary step taken by CM of Punjab Province as he takes many such decision in education,Sports, Culture enhancement activities recently. Many analyst said that these kind of activities are very important for young generation and now the turn of farmers is there. We all know that Agriculture is the backbone of our country and in these days  Punjab Green Tractor Scheme 2012 is highly appreciated by farmers particularly those who are not capable to invest heavy amount abruptly.
Punjab Green Tractor Scheme 2012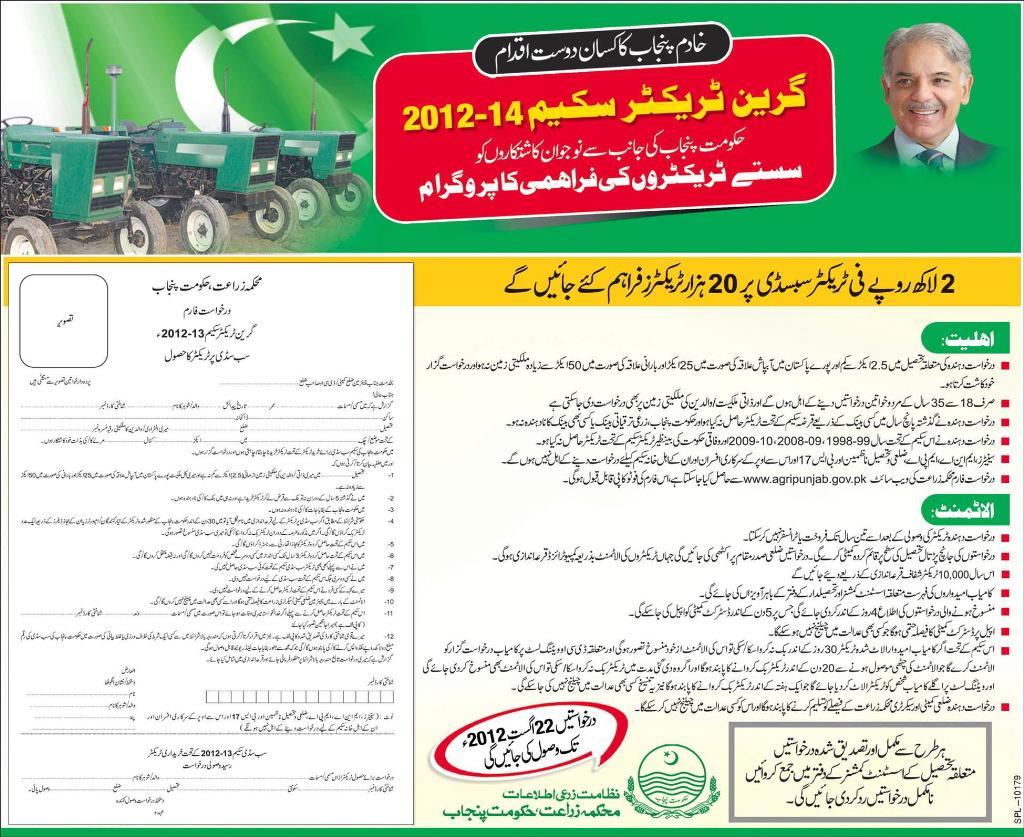 Form is also given here of Punjab Green Tractor Scheme 2012 you can print it and submit it before 22 August 2012. This is final date and no change will be consider regarding this Scheme because it is official. If you still have query than tell us through comment section.
Punjab green tractor Scheme balloting Result: