Eid ul Fitr is an Arabic word which means the breaking of the fast. Eid ul Fitr is one of the religious festivals of Pakistan. The main purpose of this festival is to let people celebrate the occasion together, to share joys and to feel united. This festival unites us in our love of God. We celebrate them together each year with great joy and passion. This festival usually arrives after the departure of Ramadan. During the holy month of Ramadan Muslims keep themselves hungry from dawn till the sunset. During this one month Muslims get to realize the real hunger of poor. They engage themselves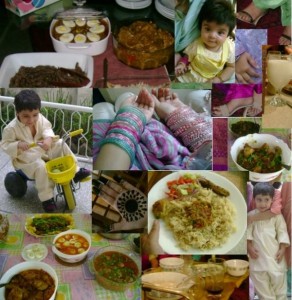 in helping the needy people and often give Zakat. During this 30 days of Ramadan Muslims bow down before the God and ask for forgiveness for their past sins and demands the God for his merciful blessings.  After 30 days of fast the moon is sighted at the end of the Ramadan month that decides the Eid ul Fitr appearance on the next day. According to Islamic calendar Eid ul Fitr arrives at the first day of Shawal. The entire Eid ul Fitr happiness last for 3 days. This festival allows all the Muslims and Non Muslims to get together and unite themselves into the unbreakable bond of brotherhood, friendship, love and respect for each other.
In other Islamic countries as well Muslims wait for the sight of the Eid moon and as the moon appears the whole city starts twinkling with lights and all the Muslims greet best wishes to each other. All the men and women and even the kids began to arrange their clothes which they have to wear all three days. Small kids take Eidi from their elders and parents.  On the Eid day Muslims firstly offer the prayers in the mosque and afterwards gave a strong hug to each other with happiness. As soon as the prayers are finished all the houses gets crowded with the guest and exchanging of gifts with each others. There is no single home from where the smell of delicious and tasty dishes will not be coming as the women completely make themselves involved into the kitchens for making tasty foods for their children and family mates. On the whole this Eid festival is the gift of God for those Muslims who bow down before the God during the Ramadan and spend their whole time with God.