Every year, Ramzan came around the world with lots of blessings for all Muslims. For the next time, the calendar and Ramadan 2022 Date Pakistan is inquiring now. This month has much importance in Islam because fasting is one of basic pillar of Islam. Moreover, during this month, the Holy Quran was first sent down to the Prophet Mohammad (Sallallahu Alaihi WaSallam). It is compulsory for every Muslim to fast for this specific time period of 30 days. During the fast time, one cannot eat or drink between sunrise and sunset.
Without any minor doubt, Roza is the basic duty of every Muslim; except traveler, elderly, menstruating, pregnant and ill persons.
If you are not able to enough to fast, you must help the poor and give them food. In this whole month, Muslims perform extra prayers in addition to five daily prayers.
Ramadan 2022 Date In Pakistan:
Most likely, "2 April" is the Ramadan 2022 start date in Pakistan.  During these days, all Muslims give charity to the poor and needy people. So that, they also spend this month like other persons and this thing is specially mentioned by the Almighty Allah.
The exact date of 2022 Ramadan is yet not authenticate.
There are many persons who want to know about the Ramadan timings and detailed schedule which is given below. Ramadan Calendar and fasting times are different in each and every area of this world.
Last Year Ramadan Calendar: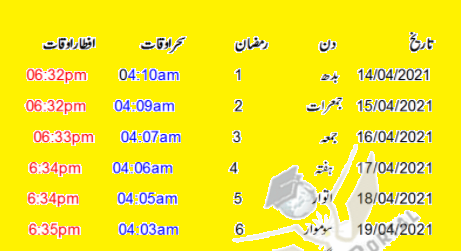 As stated earlier that start date of this 2022 Ramadan is expected to be 2nd or 3rd April. Mostly before the ending of Shaban in each country, the moon sighting Committee astronomically decide when will the Ramadan is going to get started in UK, USA, Saudi Arabia, Pakistan, India and other cities. So get ready to receive a plenty of blessing in this month. Meanwhile, make sure to follow the Namaz schedule strictly. Only once in a year, these 30 days come in a year, so must collect a lot of blessing in this month.