In the third world country, Pakistan, people are divided in different income group. Thus, every person buys an automobile vehicle according to his affordability that is why you can see variety of vehicles on roads of Pakistan. These vehicles range from traditional horse carts and two wheelers to the super luxury cars. There are many renowned automobile companies of which vehicle are being bought by Pakistani people such as Suzuki, Honda, Toyota, Mercedies Benz, Nissan etc. There are several cars and variety of models that are being liked by people. Here in this article we will write about top 5 cars within the range of 10 lakh which is quite reasonable and affordable amount of money that a middle class average Pakistani can spend on his vehicle. We will update you with the main features and prices of these cars.
Suzuki Cultus:
Suzuki cultus has very attractive design with beautiful and luxurious interior and exclusive exterior. Though it has a manual transmission of gear yet it is equipped with power windows, power door lock and most importantly power steering. You can buy Suzuki Cultus VXR: model in Rs. 891,000 and VXRi CNG model in Rs 938,000. It has 993 cc engine.
Suzuki Mehran:
Suzuki Mehran is an economical and fuel saving car for average lower middle class citizen of Pakistan. It has a simple but decent design and its spear parts are easily available in very cheap rates. You can have the color and model of your own choice because Suzuki Mehran is available in different colors and models (VX, XX, CNG, VXR, and VXR CNG). Its price range from 480,000 to 585,000 Rs. The new Suzuki Mehran is the largest selling car in Pakistan with its little wonders such as head turning lamp, Matching front grill and two spoke steering wheel. It has unmatched fuel efficiency as well.
Daihatsu Cuore:
Toyota Indus Motors Company Ltd offers Daihatsu Cuore with its driving comfort and exclusive performance. It is a reliable car with Japanese technology and beautiful design. Its various models are available in market such as CX, CX CNG, CX A/T with the economical price range from 760,000 to 890,00 Rs. Cuore has a 847 cc, 3 cylinder engine with 3 speed automatic transmission. It has maximum output of 30.0 kw/ 5500 rpm and maximum Torque of 65 N.m / 3200 rpm. It has a comfortable and roomy interior, super powerful air conditioner and responsive steering. So you can buy this car and enjoy its luxurious rides.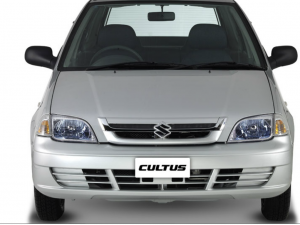 Suzuki Alto:
Suzuki Alto is also a much demanded car in Pakistan with compact design. It has power air conditioner, power windows and power steering. It is available in Rs 693,000 to 753,000 with different models. It has an 1800 cc engine.
Hynudai Santro:
Hyundai Santro is another economical car with different models i.e M/T Prime, M/T Prime GV, Efi M/T Club, Efi M/T club GV with prime ranging from 714,000 to 839,000 Rs. Its various models slightly vary in their specifications, features and prices. It is a 1000 cc car. It has a unique and refreshing exterior along with the luxurious interior with metallic touches on certain locations. Its engine is modern technological inline 4 cylinder, 12 valve SOCH. Its maximum power is 55/ 5700 and maximum torque is 8.3/ 3250. It has power steering and rack and pinion steering type. This luxury car can easily accommodate 5 persons in it.