For a perfect motorbike ride, Honda 125 is the best option to drive in Pakistan. Every year, this company will try to improve the performance of their vehicle. Now, with more options and better specs, CG 125 New Model 2021 By Atlas Honda Price in Pakistan has disclosed. True that, the performance of this bike has made it be on the topmost spot. In the past, its fuel efficiency is a major issue for the number of riders, that why peoples prefer other bikes on it. But now, Powerful Japanese Technology OHV 125cc Engine makes it petrol efficient. Moreover, this engine life is also better than the previous one. This is the reason that now the company has offered 3 years engine warranty on new motorcycles.
Undoubtedly, its sound is the major identity of this bike. Now, the newly introductory Modern Black Painted Muffler Exhaust makes it sounds better. Further, below one will check its other feature.
Honda 125 New Sticker 2021 of Tank
Stylish Speedometer
A new type of Seat Bar
The best quality Rear Wheel
Honda 125 Price in Pakistan 2021 Model:
Last Year Model Price:
120,900

Rupees (Probably this time it will increase a bit)
Honda 125 New Model 2021 Launch Date:
Yet the exact one has not revealed, but most probably it will come in the market from Dec of last year. Maybe Honda will confirm it soon.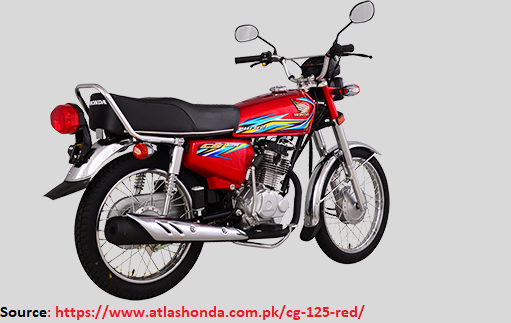 Moving back to its fuel economy then it can give you a Mileage average of Forty Five Kilo Meter Per Liter. It has a dry weight of Ninety Nine Kg so yes you can have a smoother ride on it. Meanwhile, its drum brakes must help to stop it immediately. It has non-asbestos kind of brake shoes. What you will love the most about this bike that it is inducted with the best tanky.
When CG 125 New Model 2021 By Atlas Honda Price in Pakistan will Reveal?
Technical Specs: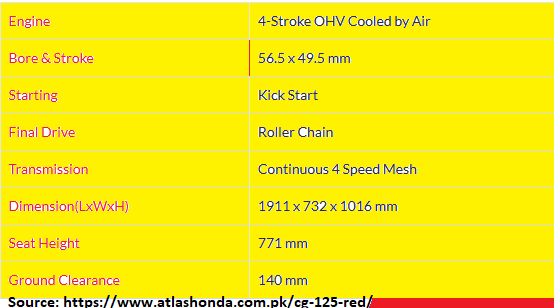 It has a stylish look that comes with graphics. It has a sleeker-looking Front Light and Back Light is available in new and latest shape. Now rumors are that the company also gives a warranty of three years, which is good for customer satisfaction.  Discussing color options that they fail to add a new shade in it, one must need to pick one among them.