Toyota is considered to be one of the largest selling brands of automobiles in Pakistan. Its various models, types and exclusive shapes have been appreciated and demanded by the citizens. Every year new models and versions are being launched. Toyota has established its name throughout the years. Its reliability can be challenged. It has introduced the most wanted car Corolla with its various models. The car is famous among not only the upper middle class but also the elite. It has various models of which Toyota Corolla Gli is the most advanced and the luxury car. It has become a dream car youth and business man as well. The 2014 model of Toyota Corolla is much more advanced and beautifully designed. Here are exclusive features and the expected price of this car.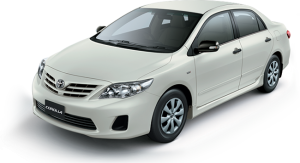 Features:
ABS Navigation System
Dual VVT-I Engine
Dynamic font grill
Active head rest
Crystal tail lights
Power windows
Elegant upper interior
Extended rear Garnish
1600/1300 cc power
EFI fuel system
55 liter fuel tank
LED type rear lamp and multi-reflector front lamps
Electric Power stirring system
DVD system including navigation, Bluetooth and USB
Interior color grey
Price of Toyota Corolla Gli 2014
Price of Toyota Corolla Gli 1.3 L : 17,00000
Price of Toyota Corolla Gli 1.6 L : 1885000
The above mentioned are factory rates excluding tax. This car is much recommended because of its extraordinary torque as compared to other cars.