After shut down the top sale variants of the same shape, Toyota Grande 2023 price in Pakistan is surely affect after this update. In the automobile market, Grande is considered as one of the favorite cars. The simple reason for its popularity is that its every model has equipped with better specs compared to other vehicles of the same category. Probably, once again its superior performance will beat all other competitors. Undoubtedly, this company is well aware from the market challenges, that's why they shut down the manufacturing of low specs vehicle of this category. As per the automotive specialists, this is the right decision of Toyota Corolla to differentiate the outer look of their model from each other.
Toyota Grande 2023 Price in Pakistan:
Based on specs, Toyota Grande 2023 price in Pakistan is different from one another. There is a difference of about 2 lac is in between these two that are differentiate as:
| | |
| --- | --- |
| Grande 1.8L CVT Price in Pakistan (It's with Beige Interior) | Grande 1.8 CVT Price in Pakistan (It's with Black Interior) |
| 5,725,000 Rupees | 5,775,000 Rupees |
Basic Grande Variant Price: 5,280,500 Rupees
Note: Yes, no filer more tax of amount 75 thousand rupees is not part of this price. Meanwhile, on instant delivery one also need to pay the own amount too.
Meanwhile, right now it's not sure that the company will retain this price for a long time. The entire situation will come clear in starting month of 2023.
It's made in different design with advanced interior feature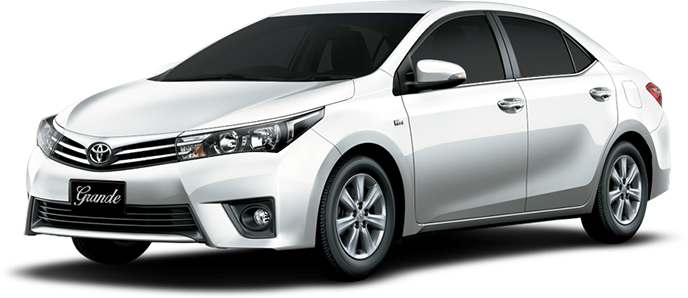 Interior Feature:
Used auto switches inside with electronic power steering and made dashboard with classical design.
The seats of this car made different kinds of comfortable fabrics with different colors combinations.
Specified emergency locking retractor inside that freely extended during any incident and lock the belts with seats.
If one sees the best interior feature in Pakistan then Toyota Corolla Grande is best option to buy. Furthermore, the closing of Xli and Gli will also play a major role in the increasing demand of this car. The pre booking of Grande has started up now, so if you will plan to buy this new model, then must book it now. Despite of such Toyota Grande 2023 price in Pakistan, yet most expected, this year, its demand will rise up that cause its shortage.