Gym is popular in men all over but build upper chest is not a easy task it require some extra efforts. But still most of the men of the Asian countries when starts body building does not know the importance of an instructor and start doing exercises. The biggest disadvantage of doing this is that your Muscles will not grow in a same direction or sizes like what youngsters do to build their chest they start Barbell bench press but this is not the right exercise for the upper chest. This is exercise for the lower chest but don't worry you can gain whatever you want by doing these exercises for upper chest.
The Most Effective Exercises For Upper Chest
Here we will give you the top 3 exercises for building your upper chest. These are as follow
Decline Push-ups
This is very simple and easy exercise which can be performed by every person even at their home, Yes you don't need any instrument or  any gym to perform this task have a look on image down there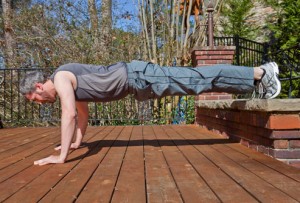 you just need a weight bench or a chair or bed or any place as like the above picture to perform this exercise. Just put your feet on the chair and lay down straight open your arm just a light wider then your shoulder and you became in a position same as in image. Now only your chest is allowed to move in this exercise go down and then up. Repeat the exercise in the same way for 10 to 12 rep and then rest for few seconds and then again same exercise and same rep, You have to do for about 3 times for an effective result.
Incline barbell press
For this incline barbell press exercise you need a incline bench to perform  this exercise because in this exercise you have to put your body n an incline position which is possible only with incline bench.
If you are doing this exercise for the first time then you need a supporter because first time it can be heavy. Lay down on the bench then your body in a incline shape then grip the barbell slightly wider than your shoulder and take the barbell up and down for the 10 to 12 times then after some rest of few seconds again repeat this for 3 times for an effective result for upper chest
Incline Dumbbell Fly's
Incline Dumbbell Fly's is very effective and useful of the chest. This exercise is one the major exercise for upper chest to gain mass to your chest and to perform this exercise you should use a lighter weight to keep any body or muscles injury away.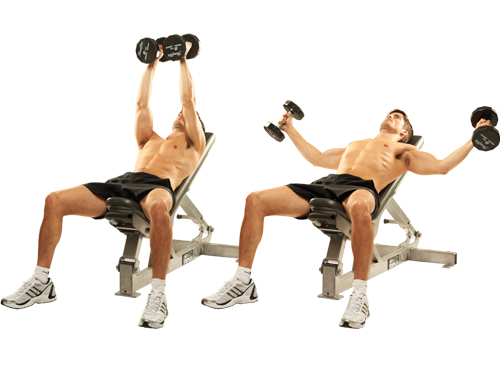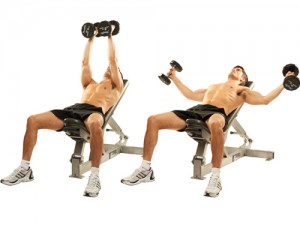 To perform this exercise you have to hold two Dumbbell above your chest with the help of palms, dumbbell should be touching each others. then with the help of arm take those dumbbell down as you can see in the above picture and then again back to the 1st position.  This exercise is quite difficult to maintain the momentum of the exercise so you should not focus on the momentum of your arm and body but should focus on your muscles.
To see the effective and good result of these exercises you have to repeat this exercise thrice a week but do remember don't try these same exercises daily.