Lahore Shopping Festival 2013 will start from 21 August to 14 September. Schedule of programs and events that also covers job fair with proper time and date are also given there. This festival will organize under the supervision of Punjab government. PM Punjab gives special advice to Law Chamber of commerce and industry and local government that they must organize Lahore Shopping festival that cover trades and social activates. This type of activities are really fruitful for the progress of thee both fields. Further details of programs of this festival are given in below of this post. These type of festival are a best source of your passing free time with a lot of learning. Few programs are too much important that you must serve your precious time. This year we try to cover the whole aspects of this festival so must visit this page and get whole updates about this festival.
Lahore Shopping Festival 2013 21 August to 14 September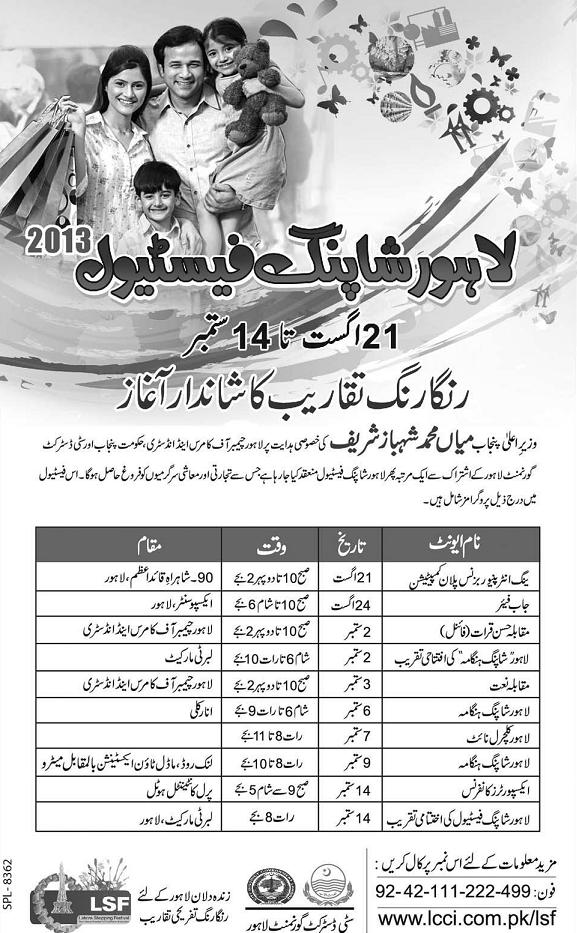 Event Programs of Lahore Shopping Festival 2013:
Young entrepreneur business plan competition
Job Fair
Competition of Talawat
Lahore Shopping Hungama
Competition of Naat
Lahore Shopping Hungama
Lahore Cultural Night
Lahore Shopping Hungama
Exporters Conference
Final Ceremony of Lahore Shopping Festival
If one sees these programs then they cover whole aspect of a society. From a student to a business man they give chance to everyone to have something. Different place are selected according to nature of program. This year the most important program in thus festival is Job Fair, in this program students get chance to search job. During these days many competent and talented students also free due to lack of Jobs and most important due to unavailability of platform. This festival provide best platform for all students while ladies also get chance of shopping and seeing their culture. In short these type of festivals are best and fruitful for any society.