Outfitters junior is one of the most popular and leading fashion brand in Pakistan. Outfitters, Outfitters Junior, Bang and Ethnic are all brands of the parent company Times Clothing Pvt. Ltd. This brand established in Pakistan in 2003 and the main branch of this brand is situated in Lahore. Here we share with you Kids Fall Winter Collection by Outfitters Junior 2013-2014. Time clothing introduces the new concept of fast fashion business in Pakistan. Time clothing run more them 65 stores spread over the different cities in Pakistan. Outfitters focused on Men's and Women's street smart fashion however in 2008 a brand for kids was launched by the name of Outfitters Junior. Recently outfitters have opened its first store in Dubai and plan to add many other destinations.
Kids Fall Winter Collection by Outfitters Junior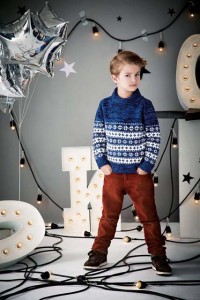 This is a right place where you can find out the kid collection for fall winter by outfitters junior. An outfitters junior has launched their new winter collection especially for children. Outfitters juniors is one of the most demanding and well known fashion brand in Pakistan. Outfitter juniors are a stylish clothing range in western style. In this new collection all clothing range are so elegant and eye catching stylish outfits and one can wear this collection on any occasion.
In this collection you can find out the dresses of both girls and boys. Outfitters Junior consists of different stylish outfits just like jeans, shirts, tees, frocks, tops coats, sweaters, jackets, tights etc. Girls frocks are so stylish and in very bright colors. Bright colors increase the beauty of children wear and also use colors in this collection such as green, black, red, white, green, pink and many more. Their stitching style is also beautiful and in western style. Use beautiful cut in girls frocks and embellished with colorful cute patterns. One can wear these dresses on different occasion and also use in casual wear.