As Telenor Ufone Jazz and Zong get rights to offer 3g service in Pakistan now everyone try to check 3G Service in Your Area Lahore Karachi Islamabad Rawalpindi Multan Faisalabad and other major cities of Pakistan. At start every company stats a free trial service or one can say that a checking service through which they can expand 3g services in whole over Pakistan. At starts it's not possible for them that they start it in whole over the Pakistan. So they take initiative from big cities, another question that arises in mind why they start these free trial 3g internet service from big cities. Answer is very simple that numbers of internet users are greater in big cities and also aware from any upcoming technology. So it's not need to build a lot of awareness for using these services. So cities where this 3G free trial Service is start internet users are search that these services starts work in their areas or not. Right now till this users face this problem that these services are not reach in some areas where testing service will start. For this one just need to follow some simple steps that must help one to check 3G Service in Your Area in two major cities Lahore and Karachi Pakistan.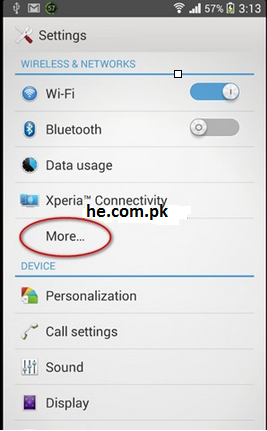 To check Telenor 3g service area:  You can dial *7799# to check if you are in a 3G coverage area. You will receive confirmation over SMS.
Ufone 3g Service areas in Lahore Click Here
Ufone 3g Service areas in Karachi Click Here
In order to check Through Phone procedure is given below.
In checking 3g service in your area first main important thing is that confirm that your smartphone is compatible for these 3g services, If it will support 3g services then further steps are:
This checking procedure is valid for only Android 4.3 running phones. For different mobile operating system menus are different so they all must take care some menu further overall searching procedure is same.
Initially click on "More" that is available in setting option.
Then "Mobile Networks" option will come at screen so click on it and one goes to "Network Mode" that is next option to come in next step.
Then option will come to select "WCDMA (preferred) / GSM that will enable your mobile to search 3g network in this area.
After this one step back to "Mobile Network" option and click on "Service Providers" that will come on next step.
This is step after which phone will search available 3g at your current location.
After this cellular networks that offer 3g service in given area are come in below list. Then simply this shows that which cellular network start their internet services in given area.
Click on given network if it will come in given searched options other wise this free trial service will not offer in that specific area.