Nadra has been identified as one of the most well disciplined and trustworthy organizations that are currently working in Pakistan. This institution has been serving every single citizen of the whole Pakistan in view of the creation of identity cards. In almost all the cities of Pakistan whether they are main or less important they have been accompanied with the accessibility of Nadra Centers where the person can carry out the functions for his identity cards quite effortlessly. Identity Cards play in important role either you are applying in some educational center or in case of casting the votes. Even now the mobile phones SIM are not issues without recognizing the person with the help of the real identity card.
Nadra Smart SNIC National Identity Card Launched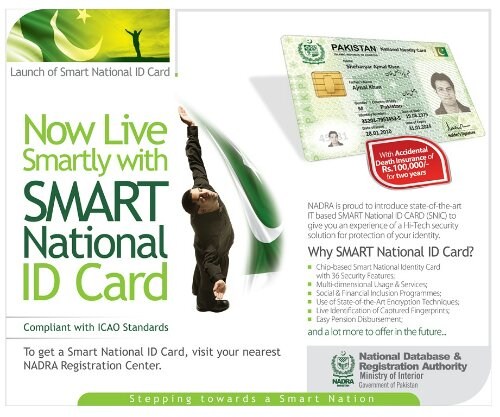 NADRA SMART SNIC NATIONAL IDENTITY CARD:
                                                              Every single year Nadra has all the time make an effort to providing the finest and top excellent service to their customers. They make it clear for the patron that their privacy will be all the more imperative part for them. This time Nadra has arrived for the people of Pakistan with the "Nadra Smart SNIC National Identity Card". This is the full proof computerized system that ensures the provision of the checked protection of your identity cards. This identity card is the form of the combination of chip that has been filled with 36 wide varieties of features. This chip will even help to identify the person all through its finger prints as well. Thus identity card offers the Easy pension Disbursement that allows the pension waiting older people to get the pension on time. In addition, it even offers maximum one lakh amount for two years to all such people who faced the sudden accidents. This has been just launched for the easiness and convenience of the people and to enhance the image of Nadra in front of the Pakistan.
MAIN FEATURES OF SMART SNIC IDENTITY CARD:
This will serve the disabled people with the handiness of the social and financial ailments.
This Smart SNIC Identity Card even offers the wide ranges of multi-purpose services that can merely be known by getting in connection with them.
Smart Identity Card Chip has been reserved with the actual quantity of 36 diverse form of features and characteristics.
If in case the person lost its identity card then the help of the printed finger prints they can identify the address and location of the person. In simple words, this card and the chip is fully computerized formation.