Ufone Introduces 5 Star SMS Offer this month, Trough this offer a subscriber of Ufone can enjoy 500 free SMS to any network in whole Pakistan. As we all know that Ufone is always the initiator in the telecom market so now ones again it gives the offer that no one has think of it. Some of the 5 Star SMS Offer are as follow.
To get these free SMS you have to send 5 SMS on any of the other network in a day and then at the same time you will get 500 SMS absolutely free for whole one day.
There is no other charges or any Subscription charges which is included in this promotion.
For the first 5 SMS user has to pay Rs. 1.50 + Tax per SMS
User can get this offer two times in a day means if you consume 500 SMS then after another paid 5 SMS you will get another 500 free SMS.
Ufone 5 Star SMS Offer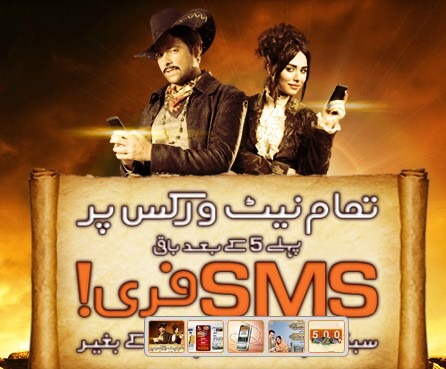 After sending 5 paid SMS you will get an SMS from Ufone "Congratulations! Now you can send Unlimited SMS for the rest of day, validity DD-MM-YY 23:59 HRS. To check your remaining No. of Free SMS dial *706#". A user can also check the SMS count at any time in a day by just Dialing *707# and to check SMS there will be a charge of Rs. 0.10 + Tax
Terms & Conditions:
Free SMS will be Expire on the same date at 11:59pm
User will get an SMS when the Free SMS activated and when it is expire.
Free SMS are for on local SMS only not for any nternational number.
Offer is Valid only for prepaid customers.
This is a limited time offer
Terms & conditions apply
19.5% FED on usage and 10% withholding tax at recharge or bill applies.
Using SIMS without proper documentation is a crime – PTA
5 Star SMS offer will not be applicable on Chand Raat and First 3 days of Eid.
All the information related to Ufone Introduces 5 Star SMS Offer is listed down but if you still want to ask something then comment section is waiting for you..