Ufone Lahore Offer 2012 in which you can call all over the Pakistan from Lahore absolutely free. Ufone is the fastest growing telecommunication company in Pakistan targeting youth so that is why they always give their user new attractive packages to build long term relationship with them, so now they come up with Ufone Lahore Offer.
residents of Lahore are mostly fun loving and chatty and they all love to talk so looking this Ufone giving them more and more reason to talk. Firstly this offer was introduce in other cities of Lahore and now this offer is for the heart of Pakistan that is Lahore.
Now Lahori can enjoy free calls to all Ufone numbers anywhere in Pakistan 24 hours a dayin just daily charges of Rs. 6.99 + Tax and yes one another thing this offer will be activated without changing your previous package. This offer is so much special because you can make free calls not only Ufone to Ufone numbers only but also Can make free Call to PTCL and Vfone Numbers all over the Pakistan too.
Ufone Lahore Offer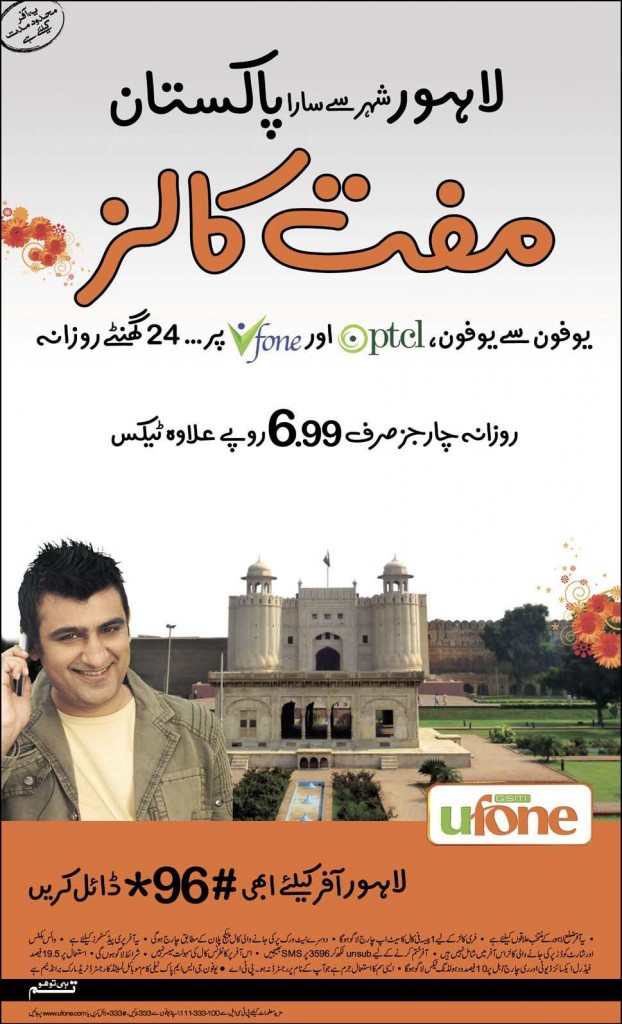 How to Subscribe:
Just Dial *96# from your Mobile and you will be subscribed.
How to Un-subscribe:
Go to your Write Message Option and  type "Unsub" and send it to 3396
Terms & Conditions:
Lahore Offer is for only selected areas of Lahore district
For free calls a set up charge of 1 Paisa / call is applicable
Other network calls will be carged according to your previous package plan
Lahore offer is for Prepaid custtomers only
Validity of this offer is from the time of subscription till mid-night same day
No conference call is applicable on this Lahore offer
This is Limited time offer so ends on 15th June 2012
19.5% FED on usage and 10% withholding tax at recharge or bill applies
Terms and condition apply
Using SIMs without proper documentation is a crime – PTA
Ufone Lahore Offer is a wonderful Package for the Big Heart people of Lahore, what you say…