You Must be thinking of that what is UBL Omni ATM Cards For Mobile Accounts, It is the forward step of the UBL Omni to take the mobile banking services to the next level because till now cash withdrawl were only possible through the retailers for an mobile accounts so UBL Omni introduces " No Name ATM Cards" for Omni Account Holder.
With this No Name ATM Visa Debit Cards account holder have the facility to withdraw cash for any ATM's, Pay bills at ATM, transfer funds, Payment to Merchants through ATM Machine, 1-Link, POS Machines. This card is now just available for level zero account. The officials of UBL said that the Idea behind this No Name ATM Card is to bring the maximum facility for our Omni account holder.
Now UBL is targeting at to minimize the operational cost that involved in manual transactions after the introduction of ATM cards for Omni Account Holder.
No Name ATM Cards For Omni Account Holder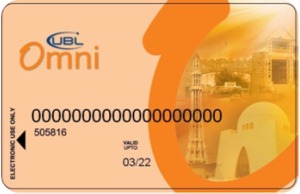 On this ATM cards internet shopping facility is not yet available but UBL will think about it later. Now if we go to the simple language then we can say that the Omni account holder customers can enjoy the luxury of regular bank account with thier own Mobile Accounts.
How to Get Omni ATM Cards?
To get this ATM card is so simple you do not have to wait long in a Que or anything like that so what you have to do just go to the Omni shop near to you and ask for this No Name ATM Card. At the same time retailer will give you a card after filling a registration form. Then after getting the card call Omni Helpline (111-825-777) the the representative will give you PIN and will activate your Card.
Few things which are required at the time of opening an account are as follow.
Rs.150/- Yearly service charges
For More details about UBL Omni ATM Cards For Mobile Accounts call to the UBL helpline or visit Any of  Omni Shop.