An complete method that how to unsubscribe or remove the caller tunes from Jazz, Ufone, Telenor and Zong is almost covered. Currently, there are 5 mobile networks that are functioning within the telecommunication market of Pakistan. All of these networks offer their customers with wide range of services and offers that have always appeared as eased and convenience at greater heights. In all such offers they also dish out the facility of getting activated with the caller tunes as well. Caller Tunes are basically the music or dialogues that are set by some caller before he picks the call of other person. They are filled with songs and even the sounds as well besides the ringing options.
Now most of the times the people often get irritated with this service and they search for the method of removing this service. But here we are sharing one simple step that will help all the people to get inactivated with this offer through the top networks.
How To Unsubscribe/ Remove Caller Tunes From Jazz, Ufone, Telenor, Zong?
For getting unsubscribed with Zong caller tunes, all the Zong customers can dial 230 and select the option of unsubscribe or they can also send an SMS at 230.
Stop Telenor Smart Tunes:
All those Telenor users who wish to get disconnected with the caller tunes they can dial 230 and get linked with the option of unsubscribe or they can also send the message to the same number as 230.
"Remove Jazz MOBILINK Caller Tunes"
All those patrons of Jazz who have connected with the caller tunes and they are curious to remove it they can dial 230 and get linked with the alternative of unsubscribe or they can also send SMS at 230.
Unsubscribe UFONE UTUNES:
All the Ufone customers can permanently inactivate the caller tunes facility by sending a message to 666. They can even turn it off as temporarily by sending the SMS to 666 and then by turning it on at nay instant moment by sending the message to same number as 666.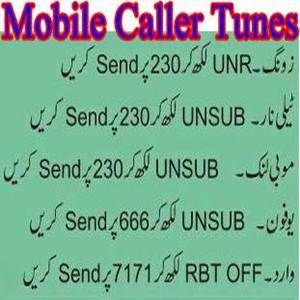 Now, this network is no more functioning and merge with a new partner company.
Well this was all for the inactivation or removal of caller tunes. Through this effortless step you will definitely get rid from the caller tunes forever. Some of time, user feel better to come back to old traditional ringing tunes and for them this is necessary to do and make simple.