Have you started making the use of Wateen internet packages? Well if not then what are you waiting for! Wateen has always been marked to be one of the well renowned and distinguished companies that have always been witnessed in offering the internet packages with the low rates. Not just with respect to the internet rates but its calling charges are as low as ever expected. Every single time period Wateen has arrived with thrilling and much exciting internet packages for its customers and this time they have yet again inward in the market in order to grab the attention of millions of internet users. Wateen merely offers the internet packages in two main categories i.e. customized and standard internet bundles. These two categories have been further classified into three main forms such as student, professional and business groups. The users can make the use of their favorite and reliable internet package that matches with their needs and requirements. In this article we will be granting our readers with all the facts and information about all the Wateen internet packages.
Wateen Internet Packages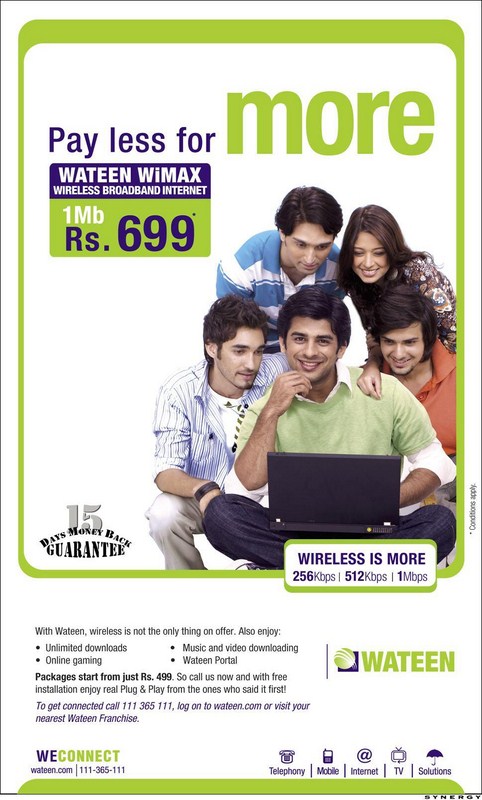 WIRELESS INTERNET PACKAGE:
In the beginning we would like to mention one thing that if the users are making the use of Wateen wireless package then they should make sure that the network is available in their particular areas. Wateen offer their internet network coverage in maximum 25 major cities of Pakistan.
WATEEN STARTER INTERNET PACKAGE:
Wateen Starter package is eon of the well known internet package amongst the students and especially the business professionals. This package offers 512 KBPS of speed and allows the downloading of 7GB that allow the users to get connected with the constant surfing and downloading. Moreover, at night time the customers can carry out unlimited internet downloading at Rs. 300. This downloading is valid till the time period of 1am to 11am. The connection rates have been set as Rs. 2317 whereas the monthly line rent charges will be come across as Rs. 818.
ESSENTIAL INTERNET PACKAGE:
This package has been categorized into two main terms i.e. limited and unlimited internet. In limited version the users can make the use of 7GB of internet at the cost of Rs. 799. Night time of limited downloading can be activating at the cost of Rs 400. The connection can be brought at Rs. 2517 along with the line rent of Rs. 1018. Unlimited internet essential package can be obtained at 512 mbps at Rs. 999. This downloading can be valid from 1am to 11am.