Do you want to know that How to make Lahori Red Chicken karahi By Zubaida apa that is often called Zubaida Tariq and she was born in 4 April 1945 in Hyderabad Deccan. Zubaida tariq is one of the most leading and famous cooking expert in Pakistan and now current living in Karachi, Pakistan. She came in Pakistan after three years of independence. She started her career in the age of 50.She work 8 years in leaver brother and then work half year in national food and prepared new spices. She also write few books on cooking and she is currently doing programs on Masala TV Zubaida worked on ARY for 1½ years, and then she work with Sajid Husain 120 programs and also did 120 morning programs with Nadia and round about 450 programs with Kiran. She also works on FM 107 in the show Aik Mukammal Ghar. Now she is working with Masala TV, the name of her show Handi until now 300 episodes of handi. Here we share with you a famous recipe Lahori red chicken.
How to make Lahori Red Chicken karahi By Zubaida apa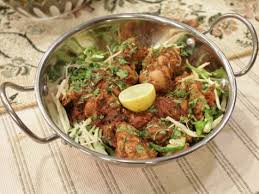 Procedure that How to make Lahori Red Chicken karahi By Zubaida apa is given there..
Required time: 30 minutes
Serves: 2-4 people.
Ingredients:
Chicken (16 pieces)      1
Green chilies chopped          4
Clarified butter     1 cup
Green coriander chopped      1 bunch
Black pepper crushed     1 tsp
Roasted white cumin         1 tsp
Ginger garlic paste      1 tbsp
Red chili powder    1 tbsp
Karahai masala         1 tbsp
Ginger chopped          2 tbsp
Method:
First of all wash chicken and add this chicken in wok then add one tbsp ginger garlic paste and salt according to your taste till water dries. When the water dries add 1/2kg chopped tomato and 1 tbsp red chili powder and cook this chicken till tomato water dries. After dries the tomato water then add 1 tbsp karahi masala,1tsp black pepper cruhed,1tsp roasted white cumin and 1 cup oil then fried few minutes. After this add in this chicken 2 tbsp chopped ginger, 4chopped green chilies, 1chopped green coriander and mix in 2 lemon juice and serve this recipe hot. Before serving decorate this recipe with tomato flower, cucumber and salad leafs.