Now day arrive for PTI Tehreek e Insaf Dharna against Drone Attacks on 23 November 2013. From here one can find Pictures, Speech of various leaders include Imran Khan and JI leaders that lead this huge gathering and other activities of this Pakistan Tehreek e Insaf Dharna in Peshawar KPK Khyber Pakhtunkhwa. Now preparation of this Dharna is enter in final stage and participants are seeing quite excited. According to source of PTI this gathering play an important role in stop of drone attack that had done serious damage in this province of Pakistan. So they request from peoples that they make sure to participate and make it effective. It will more effective if huge gathering is succeed to stop the Nato supply that will going to Afghanistan. In case of stoppage America must think about his strategy. Through this way they pay minimum cost for carriage of their supply. Now time decide about the success of this expected grand gathering. This time we try to cover the whole aspect of this Dharna so must visit this page.
PTI Tehreek e Insaf Dharna against Drone Attacks Pictures, Speech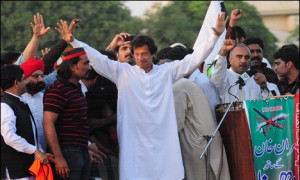 Peoples also build a lot of hopes from this Dharna. According to majority opinion drone attacks are major obstacle in front of dialogues with TTP. When both sides step forward for some dialogues then these attack stop them. The most important thing is that they cause a huge misunderstanding. TTP leaderships assume that these attacks had taken place when Pakistan government allows them. While Pakistan government makes sure that they are unaware from these attacks. So due to this Pakistan Tehreek e Insaf PTI wants to show America that they are able to step this step if they never get action against them. Hopefully PTI leadership get results from this dharna because they are in government in this province and local peoples like their government.