It's good to see that the government carried on those existing schemes that bring benefits to ordinary people.  People using Sehat Insaf Card for health and those who have used now seek Sehat Insaf Card Balance Check Online becasue the government decided specific amounts against each card. This is the prime program that the previous govt took for the purpose of health. As now they are the ruling party of Pakistan, they decide to spread it in Punjab and Balochistan.
Furthermore, this scheme is for every person, so don't hesitate and register yourself for it. Till unlimited numbers of cards are distributed and many are still issued. Further, get the Sehat Insaf Card Balance Check Online.
Sehat Insaf Card Balance Check Online
The majority of the people who are living in Punjab, and KPK use the Sehat Insaf Card but some people have used and now they are seeking how to check the remaining amount. So, some steps on how to check Sehat Insaf Card Balance Check online are mentioned for people's guidance.
Firslty, open your mobile and type your CNIC number into the Message Box.
Send a message on 8500.
Within a few minutes, you will receive a back SMS along with all info.
On the hand, each card is a limit of up to 1 Million rupees, and when the hospital charges the amount then they give proper documents.
Sehat Insaf Card Remaining Balance
Those who have taken benefits from the Sehat Insaf card now want to know Sehat Insaf Card Remaining Balance. Becasue government decided to limit and annually people can do treatment up to 1 million rupees.
How to check the remaining balance in the Sehat Insaf card instructions mentioned above.
Sehat Insaf Card Limit
A family that has this Card can get major disease facilities (like Heart, Chemo or Hepatitis, etc) up to a handsome amount of 10 Lac Rupees.
In case of hospital admission, treatment limits of up to 100,000 rupees limit will give to every patient.
At the discharge time, an amount will issue for the patient for the upcoming three days.
In case of death, 100,000 rupees will release to the family of the patient.
In pregnancy cases, 10,000 rupees will give to the patient at the time of discharge.
Sehat Insaf Card KPK Registration 2022 Online
There is no such online method for Sehat Insaf Card KPK registration 2022. The only clear and highlighted path that one will easily review is eligibility. If one will eligible for it then visit the collaborated hospitals to pursue the treatment.
The process to check Eligibility for Simple Sehat Insaf Card: Type the "ID card number" correctly and then forward it to the "8500". One will get back its response immediately.
For Eligibility of Sehat Insaf Card Plus: Code to send the Identity card number is "9780". While this is only for KPK people.
Contact Number:
And helpline for discussion on any matter is 0800-89898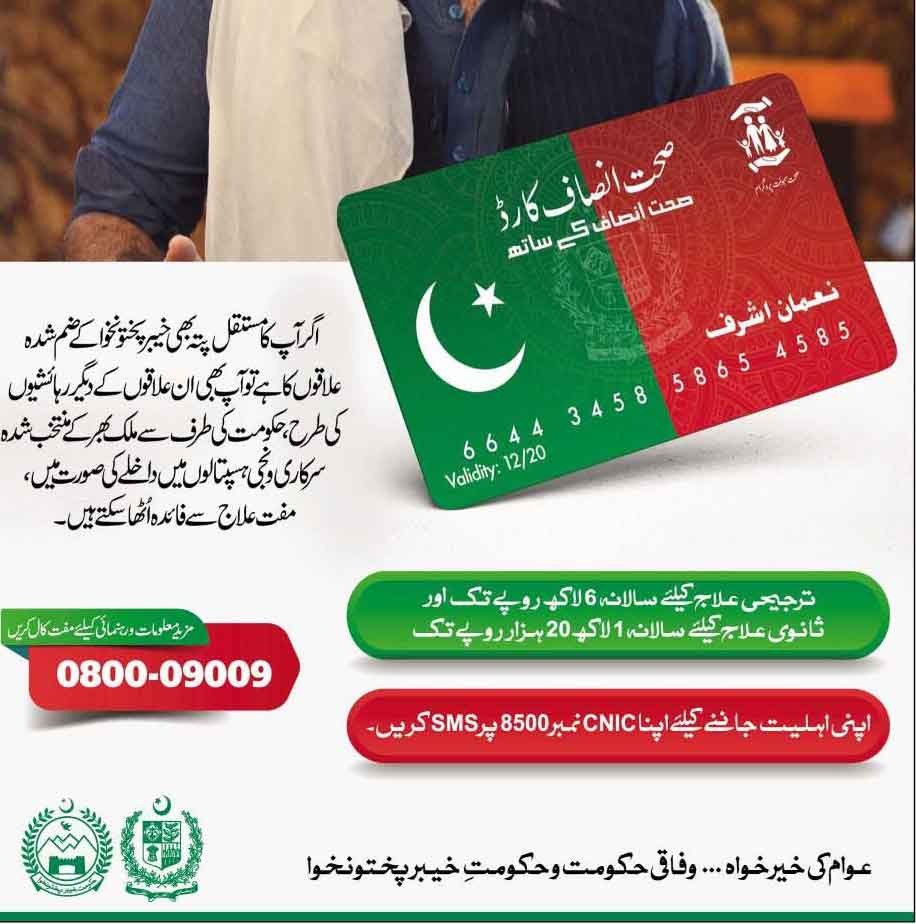 As poverty and health are directly connected to each other, so hopefully this program will help to reduce the poverty rate. Hopefully, in upcoming months some more beneficial facilities will add to Sehat Insaf Card and hopefully, govt will increase Limits. In addition, if you have used Sehat Insaf Card now can get the Sehat Insaf Card Balance Check Online. Furthermore, they fulfill the responsibility of extending it all over Pakistan. If they will get successful to spread it across the entire country, then this will be their massive accomplishment. Hopefully, they will do it.