It's good to see that the new KPK government carried on those existing scheme that bring benefits for ordinary people. The Sehat Insaf Card KPK registration 2022 online, it's limit and way to check balance of health Insaf card are all the particulars that are need of every second person. This is the prime program that previous KPK govt taken for the purpose of health. As now they are the ruling party of Pakistan, so they decide to spread it in Punjab and Balochistan. So, anybody can download Sehat Insaf Card registration form online and submit this application to become part of this result oriented health Program.
Furthermore, this scheme is for every person, so don't hesitate and registered yourself for it. Till, unlimited numbers of cards are distributed and many are still issuing.
Sehat Insaf Card KPK Registration 2022 Online
Their is not such a online method for Sehat Insaf Card KPK registration 2022. The only clear and highlighted path that one will easily review is the eligibility. If one will eligible for it then visit the collaborated hospitals for pursing the treatment.
Process to check Eligibility for Simple Sehat Insaf Card: Type the "ID card number" correctly and then forward to the "8500". One will get back it's response immediately.
For Eligibility of Sehat Insaf Card Plus: Code to send the Identity card number is "9780". While, this is only for KPK peoples.
Contact Number:
And helpline for discussion on any matter is 0800-89898
Sehat Insaf Card KPK Limit:
A family has this Card can get major disease facilities(like Heart, Chemo or Hepatitis etc) up to a handsome amount of 4 Lac Rupees.
In case of hospital admission, treatment limit up to 40,000 rupees limit will give to every patient.
At the discharge time, and amount will issue for the patient for the upcoming three days.
In case of death, 10,000 rupees will release for the family of the patient.
In pregnancy cases, 1,000 rupees will give to the patient at the time of discharge.
Sehat Insaf Card Balance Check Online:
Still, this scheme needs improvement in few sector, like Sehat Insaf card balance check online is missing. Though, hospital will inform about the remining amount after any treatment but an more advance method will make it more good.
Note: Also look over the nearby  hospitals and more details. It has also the other material. If any change or new facility will add or minus in it then it will also firstly informed through it.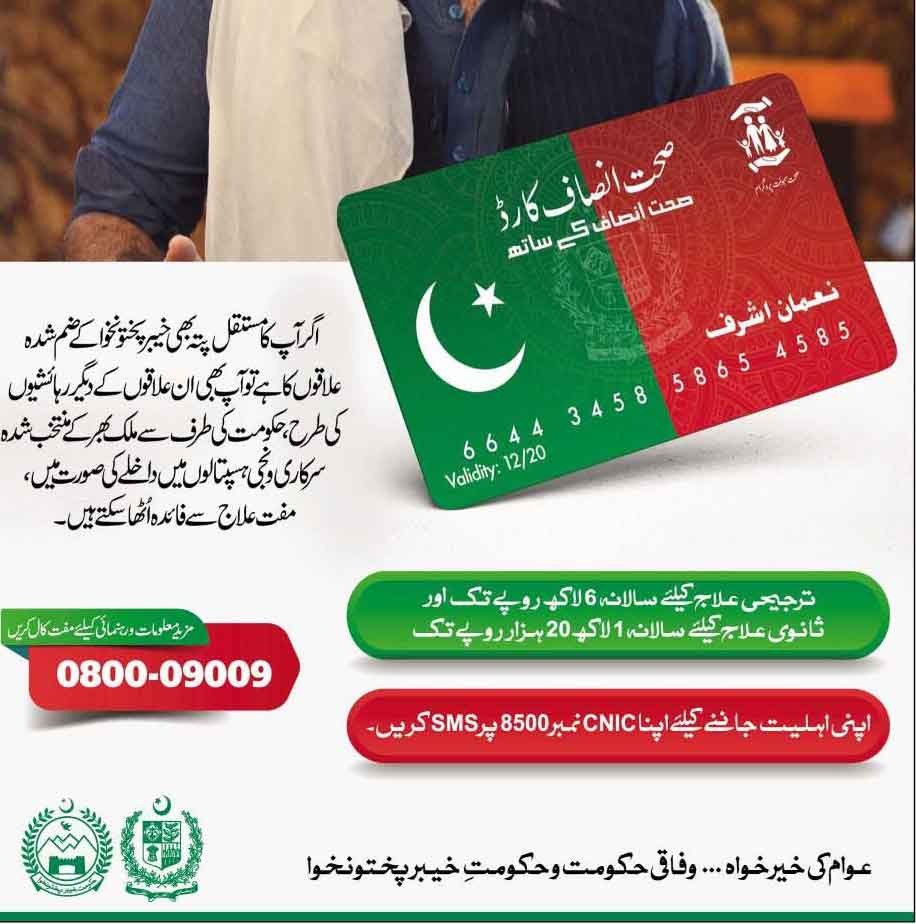 As poverty and health are directly connected to each other, so hopefully this program will help to reduce the poverty rate. Hopefully, in upcoming months some more beneficial facilities will add in Sehat Insaf Card KPK registration 2022 online like increase in Limit and way for balance check. Furthermore, they fulfill the responsibility of extending it to all over Pakistan. If they will get success to spread it in the entire country, then this will be their massive accomplishment. Hopefully, they will do it.