If one review the history of this committee then they are responsible for some important things such as exchange info between board's members, coordinate activities, evaluation, curricular standards, motivate co curricular activities etc at inter board basis include( Matric FA, FSC). There working body also gives best proposal about some important issues to different board chairmen to solve them. There is another important work which IBCC done that is attest the secondary school certificate, HSSC, technical education as well as local diplomas and certificate. The online verification process of attestation includes form and proper way that how to attest degree is here in detail. At secondary school certificate they also transform foreign grades into Pakistani marks.
Step by Step Procedure:
Application form is necessary, gets free cost from reception and also down loaded from IBCC web site. After receiving the form ensure to fill all necessary things.
Before going to attestation its necessary that one attest degree from respected board where he or she completed the class.
In case of any doubt about the verification of certificates it will be not eligible for attested. So you should verify all documents very clearly.
If your certificate will be fake or bogus after the verification, it will not be back to the candidate and IBCC will also take action against applicant.
After the attestation of original certificate attest the photocopy of certificates.
Applicant will submit their certificate to the regional office located in your city.
Only applicant, parents, brothers and sisters submit certificates and attested documents will be delivered to the same persons.
After this, remove plastic coating before depositing because these will not be accepted with plastic cover.
Get challan form from window office for depositing fee in a bank
200 Fee for each copy of document
100 Fee for every original document
Regional Offices Contact Number:
By calling on related phone number they must give all proper info about it..So one not understand the above process then below assistance must help you.
Islamabad:

Karachi: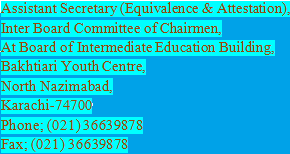 Lahore: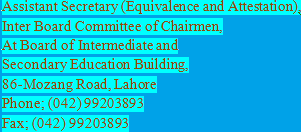 Peshawar: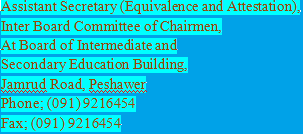 Quetta:

If student wants to know more detail may visit the window staff members of IBCC because they give you right information about your problems. Further this is a important criteria to full fill for all those who aim to go abroad for further education or they want to do job in any other country. Basically its identifies that your degree is original one or it will got from a invalid way.