News related to Punjab government is that on 24 April 2014 a local journalist throws his Shoe at cm Punjab Shahbaz Sharif Pictures. Although he is save from this unethical attack but this thing is not good for a society. A media person belongs to Sindh throw his shoes in Lahore when his is guest for at South Asia Labour Conference, till reason is not given but it will connect to GEO Tv. Police arrest given person and hopefully within our original things will appear. These types of incidents are taken in whole over the world that set a worst trend. In Pakistan before this shoe attack is also throwing on Ex CM Sindh. One has other pint of view but its not means that such type of worst things are happen too many time. Here another thing if an ill literal person doing such type of activity then it is happen due to lack of knowledge but when an educated person starts to doing such type of things then it will not acceptable at any cost. Now it's time to change one self and its necessary that one build bear ness. You has right to express your felling but at same time most important thing is that one also select right path to express it.
Shoe throws at CM Punjab Shahbaz Sharif Pictures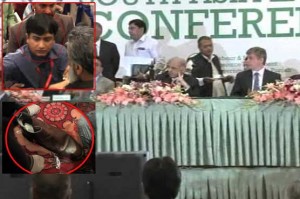 This trend is going to its peak in India and in previous Election Days many politicians face such type of worst activities.  Here another most important thing is that only Politician faces such type of attacks because they deal with every type of person. And in this type of activities many questions are also arise eon their performances. On the other hand we also select these politicians and if they are not good, not able to deliver then you has option of vote. Otherwise give them  chance this Shoe throws at cm Punjab Shahbaz Sharif Pictures is not a good action especially from that person that claim that he is member of pillar of Pakistan know as media person.