Now day arrive for opening of University of Central Punjab Lahore Admission 2015. This UCP Lahore Admission 2015 will title as UCP Fall Admission 2015 here you can find Registration procedure with admission from and procedure that How to apply. They open admission for whole facilities that working under this platform. UCP is one most growing educational institute in Pakistan that make a name in educational field. If one sees the history of this university then it will start working as business related university because majority of its facilities are offer business courses. With the passage of time they enhance their system and spread their facilities towards technical and medical field. Within couple of year they also able to establish a faculty that cover two major fields of engineering. They also introduce couple of facilities that are not related to business that get also get fame with in year. Now they also consider as one good university of Pakistan in various fields. Every year they opened their admission two times in a year for various faculties while for engineering they opened admission one time in a year. So now time arrives when admission is opened for almost every faculty in University of Central Punjab (UCP). Here we try to cover the whole aspects of these admissions so must visit this page.
Last Date:
For Bachelors program last date to apply is 3 August 2015 .
For Master, M/Phil and PHD last date for apply is  .
Detail of UCP University of Central Punjab Lahore Fall Admission 2015 is given there..
During this admission they cover almost whole faculties that work under UCP platform named as below.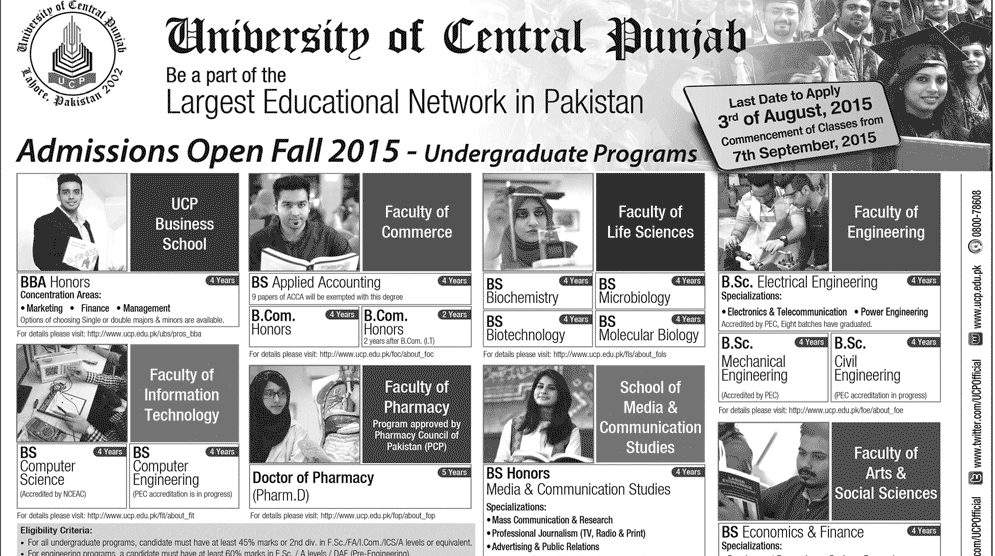 Further in Faculty of Engineering official announce Bsc Electrical engg and Bsc Mechanical Engg. While MS in electrical engineering that is two year program is also announced. Another important thing is that their engineering degree is recognized from HEC as well as from PEC. While in Faculty of Information Technology officials announced Bs computer Science, Ms Computer Science and PHD computer science that is three year program. For Faculty of pharmacy these admissions are opened for the course of Doctor of Pharmacy that is five year program. Further detail of other faculties are given in above add that is also given in newspaper.
How to Apply for UCP Admission 2015:
A very simple procedure is announced to apply to get admission in UCP. Initially you just submit admission from with total basic requirement. Then you are able to give entry test is related faculty.  After announcing the result of entry test a final merit list for interview candidates is published. Then you called for final interview on that day its necessary to carry your whole original academic certificates.  Then they publish a final list and last date of fee submission. Above is total detail for UCP University of Central Punjab Lahore Fall Admission 2015. This is enough from registration to finalizing of candidate.