When will I get marry? What would be my wedding dress? What decorations will take place on my wedding? Which parlor would be the best for my styling? Well these are some of the eminent questions that undoubtedly revolve in the mind of every woman. All the girls has the utmost wish to get married ones in their lifetime and for this reason they want every section of the wedding to be the unforgettable ones for them. As the groom also wants the every single occasion from beginning to the end including the flower decorations, food items and dresses to be the perfect in the same way bride also manages to keep herself beautiful and dazzling on the main events.
Beauty Tips For Bride Before Marriage: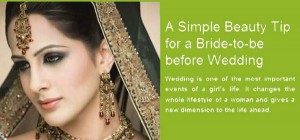 The wedding couple wants everything to be placed perfectly on the other hand the bride has to look stunning on the wedding days and for this reason there are certain measures that should be taken from the bride. This article highlights some of the prominent beauty tips that would certainly helps the bride in maintaining the striking and shiny look on all the happenings of the wedding.
  Foremost step is the necessity of excessive sleep and rest. If the bride engages herself into the several wedding activities them she would not be able to give time to herself and as a result she will definitely look exhausting and tired on the wedding days. Therefore try to take maximum rest.
As soon as you get engaged you must start planning the wedding because if you began the preparations two or three months before then it will certainly give a perfect outcome on the wedding day.
As the wedding dress is significantly prominent for the brides therefore always try to consider such bridal wear that matches well according to your temperament and personality mode. There are massive famous fashion designers that can help the brides in selecting the dress of their own interest.
Lastly important bridal beauty tip is that most the times the girls get their skin damage due to the maximum use of makeup before the marriage and as a result they face great difficulties during their marriage. Before the wedding keep in touch with several skin experts and doctors for managing your skin tone and keeping it glowing and shinny.
At the end these helpful and noteworthy steps would undoubtedly appears to be a valuable treasure for the brides and by following them they can surely makes them look even more stunning and eye grabbing on the wedding days.