In bridal makeup there are certain moments when special attention has to be given to each single portion of the face. Sometimes the brides apply excessive makeup on their face because they are aware from the fact that they have to get married only ones so apply as much makeup on the face as you could but it doesn't mean that you should present yourself horrible on your wedding day. A bride should always try to keep herself and her makeup within some limitations as the bride would only looks beautiful when she is simple and plain. In the makeup the eyes makeup is considered to be the toughest task for the makeup artist. Some brides favor light makeup for the eyes whereas most of the brides take hold over the strong and smoky makeup. In this article we are highlighting some of the eminent guidelines that would help the brides in knowing more about the actual eye makeup for the wedding day.
Major Ideas
1. Foremost take the advantage from the best makeup artist. The experienced makeup specialist would certainly make you look different as compare to normal day's makeup and it will matches well with your personality stand as well.
2. Secondly, never apply the makeup on the eyes before the wedding because it will never make your eyes look attractive on the wedding day.
3. Most of the girls often get disturbed from the makeup and tears start coming out from the eyes. For that reason apply some eye handy liquid medications for the eyes that wouldn't allow the water to flow from the eyes.
4. Never use the contact or colored lenses during the makeup because it may possibly feel you irritated during the wedding and it can spoil your makeup.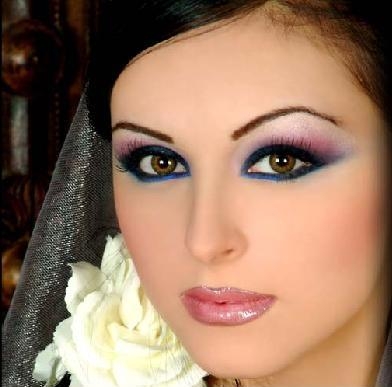 5. If you feel that you have dark circles and wrinkles around your eyes then take as much rest and sleep as possible for making your eyes relaxed and calm.
6. Most importantly when it comes to wedding makeup never consider doing smoky and dark makeup for the eyes because smoky makeup is a party makeup and it doesn't give a good image for the bridal makeup.
7. The use of light eye shadows for the eyes will certainly make your eyes more shiny and bright and will make your eyes prominent during cinematography.
So these are important bridal eye makeup ideas for all future brides. By implementing these ideas, every future bride will get beautiful and stunning eye makeup.