Ladies are having more knowledge about their complexion. Therefore most of these people look for instant and effective solutions and they think fairness creams are the best way to bring fairness and glow. Faiza beauty cream is also a fairness cream introduced a long time ago by POONIA Brothers in Pakistan that get fame because of best results. Its price in Lahore and Karachi as well the process that how to use it in Urdu with its side effects in English are shared in this article. It is an award winning product therefore the demand of is gradually increasing day by day. In addition, easily available in the market and the best thing is that it is affordable. The purpose of this is to remove all the freckles, blackness and pimples of the face and to give you a flawless skin but within few days of usage people can see its side effects too. People are also using it as a moisturizer.
Market Price of Faiza Beauty Cream– This famous whitening cream has a market price of 150/- Rs. It is easily available in almost every store.
How to Use? Before using Faiza beauty cream wash your face gently and let it dry. Then, put a little amount of cream on your hand and apply onto the face. If you want to apply this cream at night then don't do massage or rub. Just apply and leave it and wash your face at early morning. Avoid eye contact.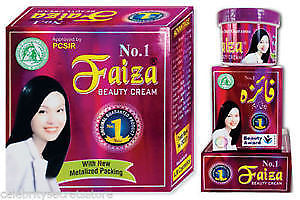 Side Effects – From the user's reviews, I came through its dreadful and horrifying side effects. It is simply wastage of money. It is found that ingredients of this product are very harmful to use especially onto the facial skin. It may also result in skin diseases such as skin cancer. It is recommended that before using such type of whitening creams consult the dermatologist first. Here is the list of few side effects of Faiza beauty cream.
The ingredients of this cream claims to bring glow by lightening the skin color, but the truth is that it doesn't have any sensational effects on skin color.
When applied on a large amount, people feel burning sensation
It also causes swelling, itching and swelling on every application.
When you start using this cream, you will feel very good results but after that it will worsen your skin according to the most of the people reviews you will have dark spots and many other serious issues.
It will change the Hormones of your skin that may cause skin cancer.
The skin texture changes after the application and you will have dried and rough skin.
In some cases it discolors of your actual color rather than lightning the skin color.
Faiza Beauty Cream is widely observed that every product is not for every skin type. For some people it is very effective while on the other hand it has side effects too that now mention in Urdu. But if one knows that how to use it then its result are really good and it's easily available in all big cities of Pakistan include Lahore and Karachi in reasonable price. So if one take risk without thinking negative things then this product is has a best result.