Most of the girls comprise long nails but they unaware from some of the facts for decorating them in proper manner. Much of the girls decorate them in such a way that looks roughly whereas some of them might get an untidy appearance. As Eid is about to arrive soon so many girls may have a certain consciousness for making their nails presentable and different from others. Well all the girls need not to worry any more because this article discusses some of the prominent techniques that would help the women in knowing about the actual pattern of painting their nails in perfect and good looking mode.
How To Paint Your Nails: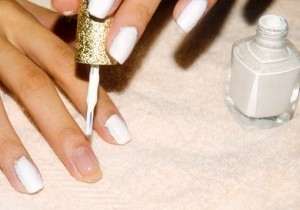 Ingredients for Nail Painting:
                                                For painting the nails all the girls and women are required to keep the following essential items along with them and the most significant among them includes nail polish, nail paint remover, body lotion, cotton balls, nail cutter, a small bowl full of warm water for massaging the nails and a small air conditioner fan. Now once you have gathered up all the products now we can move on with the next stage of learning the nail paint art. You are just needed to follow the above mentioned steps for nail painting and then all the eyes will be on your nails.
Firstly take a bowl and fill half of it with warm water. Now dip your hands and feet into it and massage them gently. While massaging don't forget to clean the section that is under the nails.
Afterwards take the nail cutter and trim the nails till the length which you discover to be suitable for you.
As soon as you complete the cutting take nail polish remover and clean any nail polish that is already present on the nails.
Now after removing take any nail polish color that you like the most and dip the brush once into it. Always remember that just do first coating on the nail as double coating will looks untidy.
Now after the first coating let it dry for sometime. If you feel to does second coating apply them in the same way as the first one.
As soon as you finish the coating you can even make the nails glittering by adding another coat of some shiny nail polish that will looks dazzling. You can even paste the pictures of some abstract shapes and flower if you have the desire.
 After discussing the whole procedure it is concluded that these steps can definitely help women in making their nails ravishing and gorgeous for others.