The topic here discuss is How to make Hyderabadi Biryani by Chef Zubaida Apa (Tariq) while its method is given as Method: First of all take a cooking pot and add in add mutton, raw papaya paste, red chili powder, ginger garlic paste, Lemon juice of 4, , green cardamoms, mint green chilies, black peppercorns and cloves, salt and yogurt and mix together. Leave this mixture for half an hour. After this put on this mixture in a pot on low flame and until water dries. Take a frying pan, heat oil and fried é finely sliced onions til golden brown. When onion become golden brown then sieve out fried slice onion and spread out on absorbent paper and add very hot oil in mutton mixture. After this process take a big pot then boiled rice and add mint, green chili, Green cardamoms 8, Black cumin, salt and vinegar 1tbsp in boiling rice. When rice boiled then Grease the base of a cooking pot and spread a layer of half the quantity of rice. And sprinkle half fried and crushed  onion on it. After this add lemon juice over mutton and then spread the second layer of renaming rice. Take a little bowl dissolve a pinch of yellow food color in warm milk and pour over rice and top with fried onion and lemon juice. After this add raw ghee and Cover the pot tightly with its lid. Take a grilled pan and heat on high flame put the pot over it and after 10 minutes reduce the heat low. When steam out of the pot then biryani is ready. Serve this delicious Hyderabadi Biryani with raita, salad and aachar.
How to make Hyderabadi Biryani by Chef Zubaida Apa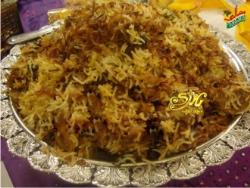 Procedure to make Hyderabadi Biryani by Chef Zubaida Tariq is given there..
Recipe Ingredients:
Mutton 1kg
Yogurt 1 cup
Onion 4 (sliced)
Cloves 4
Green cardamoms 8
Salt to taste
Mint 1 bunch (roughly chopped)
Yellow food color 1 pinch
Raw papaya paste 2 tbsp
Rice 1 kg
Ginger garlic paste 1tbsp
Black peppercorns 8
Black cumin 1tsp
Red chili powder 1 tbsp
Lemons 6
Green chilies 6 (sliced)
Warm milk 1 cup
Ghee 1 cup
This is really easy to made and you can make it easily at home. Second important thing is that this one facvorite dish of every person so maximum women try to make it tasty at home. By following above tips of Hyderabadi Biryani by Chef Zubaida Apa you can make it more tasty.