As per reports, previously China had unveiled $46bn investment in Pakistan and it was during the visit by Xi Jinping. They have made this huge investment plan and they will also be expanding Beijing's trade and also transport footprint right across Central and South Asia. Here will be let you know about the Chinese investment in Pakistan 2018 and also its details analysis. There is no doubt about that both of the countries are iron brothers and it is seen too that China has so far made a massive investment only in Pakistan and not in another country, not in Indian even. Surely, these investments will be the game changer of this region.
Chinese Investment in Pakistan 2018

Energy Projects:
The Chinese president has hoped that our country's energy crisis will sooner be ended. China has carried out almost 20 energy projects in Pakistan, China has this mission to "transform" both the countries into a regional economic hub.
Both of the countries will also be cooperating in natural gas, coal, and also in the solar energy projects, it provides 16,400 megawatts of electricity. Many of the substantial projects will have a transformative effect on our Pakistan's economy.
China Pakistan Economic Corridor (CPEC):
Both the countries have come up with this plan of China Pakistan Economic Corridor (CPEC), it will expand trade and transport across Central and South Asia and will also be countering US and Indian influence. All these investments will boost up the economy and also the IMF projects will grow at 4.3% this year. This China Pakistan Economic Corridor will be improving the situation of Pakistan's geopolitics to geoeconomics.
Projects of the road, rail and also pipeline links will be transporting oil from the Middle East to China and they will be bypassing their mutual rival which is India. It will be these roads and rail links that will help us to merge all the three engines of growth in Asia: we will be linking South Asia, Central Asia and also China and in this way, Pakistan will be the economic hub of this region.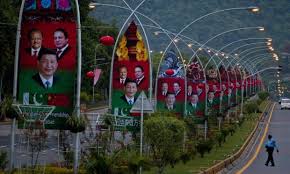 Trading Of Defense:
Both of the countries have also been carrying on diplomatic and military relations. This Bilateral trade has now been crossed to $12bn last year and it was only $2bn just a decade earlier. China has also expressed its willingness and it has agreed to give full support to the Afghan government to make the reconciliation with the Taliban.
So, this is the Chinese investment in Pakistan 2018 current these days. We will be posting more of the details analysis and more about the future investments when we get on hand the details. Further upcoming years will decide the benefits of these projects.