In Pakistan unemployment is a big problem which is affecting almost every kind of people. Those people who have completed their study are still unemployed because in Pakistan there are fewer chances of job opportunities as compared to other developed countries like USA, China and Germany etc. so people who completed their degree prefer to visit other countries like USA, China and Germany instead of Pakistan. So our whole cream in the form of intelligent students serves other countries instead of Pakistan. So there is a need to create jobs in government sector and private sector as well so that no student visits other countries for job.
To see this problem of fresh graduate student's government of Punjab is going to conduct a festival named as Punjab job fair 2014 for Professionals. Now people especially students can get advantage from this job fair. Many companies will hire talented students on this job fair.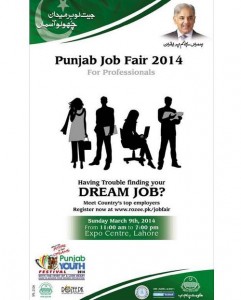 Date of job fair:
This job fair will be conduct on 9 March 2014
Venue
This job fair will be conduct in expo center Johar town Lahore
Time
This job fair will be conduct from 11 am to 7 pm
For registration 
This program will be conduct with the support of Punjab youth festival and government of Punjab.
All the job seeker students are invited to visit this job fair 2014 if they want to get job or want to get the knowledge about the jobs in national as well as multinational companies.