Those Pakistanis, who are crazy about cooking by their own hands, must be aware of essential items they may need for a Pakistani kitchen. If you have already functional kitchen, you will obviously have all the required tools needed for daily cooking but for those beginners who are in process of setting up their kitchens, must need this checklist of essential items to aid their cooking. So, have a look on these essential items that a Pakistani household kitchen always needs.
Tawa:
Tawa is the most important and essential item for Pakistani kitchen. It is a black round metallic plate used for cooking chapattis, roti and parathas. It is also used for shallow frying of kababs and eggs etc. no Pakistani kitchen is complete without a tawa.
Rolling pin:
It is another kitchen item that you need every day. You can not make a roti without it. It is used spread the floor dough into a round roti. Rolling pin is also used in baking thing like cookies, breads, pies etc. it spreads the dough in your wanted shape and thickness.
Tongs:
In the local dialect, tongs is known as chimta. It is an important a utensil as tawa or rolling pin because it is used to turn the sides of roti or parathas while cooking. There are various sizes available of tongs in market. These tongs are also used in frying samosas and pakoras.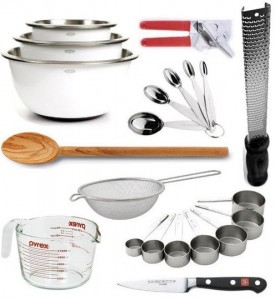 Cutting board:
Cutting board is used for cutting vegetables. Though the women who are expert at cutting can cut vegetables with hand in traditional manner yet they prefer the cutting board that makes the task easy and also save hands. It helps in chopping vegetables for salads and cutting meat or chicken. There are plastic and wooden cutting boards available in market but wooden board is preferred because it is safe, durable and hygienic.
Peelers:
Peelers is also a must have tool for Pakistani kitchen. It is used to peel off the skin of different vegetables and fruits. It saves you time from peeling with knife and also works efficiently and precisely ensuring the less wastage of things.
Whisks:
Whisks are necessary to beat the egg into a frothy mixture within few minutes. It also is being used for beating cake and pudding mixture.
Measuring cup and spoons:
For making the perfect recipe of baking measuring spoons are essentially required. They help in having the exact measuring scale.
Strainers:
Strainers are required to discard water used while boiling the vegetables and meat. It is also required in cooking of rice, tea, coffee etc.
Spices:
Various spices like powdered red chili, cumin seeds, cinnamons, salt, brown sugar, haldi etc are also essential for cooking in Pakistani kitchen.
Ginger garlic onion:
Apart from your favorite vegetable and fruits, you must need these three things to cook any traditional recipe in Pakistani kitchen