Earthquake is one of those natural disasters that create huge destruction. It is originated by the movement of plates or rocks under the surface of the earth. And it is also supposed that when there is an enormous rise in temperature beneath the earth surface then the volcanoes explode abruptly and then as a result that specific area begun to tremble. Some earthquakes cover very short range whereas some cover large distances and cause huge loss. It is also seen that after the biggest earthquake, there are greater chances of aftershocks in the same region which also bring fear among people. This essay on Earthquake covers it's all aspects in Pakistan in English that is easy to translate in Urdu to.
Since the birth, this country is facing different problems in terms of both natural disasters as well as man-made. The analyst claims that the Pakistan is located on extremely dangerous line that may put our beloved country into more risk. Whereas In Pakistan, the main hub of earthquakes are mostly western and northern parts of the country, besides to Iranian and Afghan micro-plates and boundary of Indian plates. Till now the deadliest earthquake in the Southeast Asia was came in Quetta, Baluchistan in 1935.
At that time the population was very small and the buildings were not so big and in the large amount. Although, it was the deadliest one because it almost empties the whole city, people were buried under the earth and the condition was more than worse.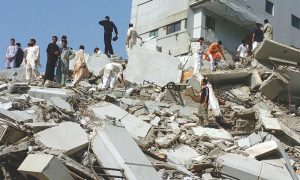 From the last few years in Pakistan, the earthquake ratio is seen greater than before. In the following year, Pakistan has faced numerous jolts in the different parts of the country but thanks to Allah Almighty that the intensity of these shocks was not so high. However, in 2005 this had shaken the whole nation and hit the Muzaffarbad, Ballakot, Azad Jammu Kashmir and Khyber Pakhtunkwa with a magnitude of 7.8. That was considered as the dangerous one. Millions of people were killed and thousands of people got swear injuries.
In additions leave a huge impact on socio-economic development. Tourism industry collapsed completely. On October 2015, earthquake again hit Pakistan with a magnitude of 7.5. Luckily, no biggest loss was seen. Natural disasters cannot be prevented and they are unpredictable too. But it would be good, if preventive actions were taken.
Its important, that people should be taught in the institutes, work place etc that how to keep yourself safe during that time. People should consider some codes while making buildings or any other thing that solid material should be used. If possible, then warning devices should be built in Pakistan that notifies people and people take preventive measures.