Pakistan has been facing the worst kind of terrorism from the last few decades. Every day, the target killing, suicide bombing and the planned murders are making the horrible and heart reddening headlines of the news papers. The entire image of this so called Islamic state has been tarnished as the world recognize. Pakistan as the supporter of Terrorism and all the Pakistanis around the globe are tagged as the terrorists. Pakistan has been facing guns and bombs for so long that it has been thought there is more ultimate end to these life taking practices. It has become so frequent that even the children take it as everyday normal routine when they hear such news.
A series of terrorists attacks in and around Peshawar in the last one year should give serious pause to the thought. The worst kind of terrorist attack seen in the history of Pakistan that has let the people to cry their hearts out even after listening about this horrible incident is the terrorists attack on a military run school in Peshawar, a northwestern Pakistan city of Peshawar. On a gloomy cold Tuesday morning, a group of Tahuk-e-Taliban gun men stormed the school and took the lives of innocent children and teachers in the most ruthless manner. 126 lives were taken as officially reported.
It is the worst kind of attack that hit the country in years. The overwhelming majority of the victims were consisted of the most innocent creatures of the earth and flower of heaven, that is the noble students of the schools. The terrorists did not just killed the 126 innocent students but they actually took the lives of 126 families who lost their future hopes and there purpose f living when they saw their children's dead bodies in white uniforms turned to red. Tahir Ali, as he came to collect the body of his 14 year old son Abdullah said," My son was my dreams and my dreams has been killed"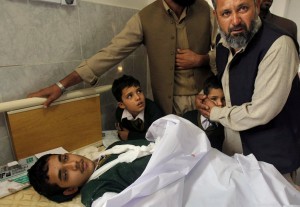 Half of a dozen gun men entered the school from nowhere early in the morning and started firing nowhere early in the morning and started firing randomly. Though the army soldiers arrived in time and there was exchange of fires for some time but this could not stopped the terrorists from doing for what they came. Within two hours, they killed a number of teachers and students in the worst way. The pictures of the school afterward showed it as an alter house rather than an educational institution. The Prime minister and other major personalities of establishment condemned the incident and rushed to Peshawar to express their support.
This massacre has filled the hearts of all school going Pakistani children and Parents with worries and external fear that their lives are not save even at their school. Thus, it is the right time for the government and army to curb the terrorist's attacks and force all the terrorists of Pakistan for good.