The membership of the federal government employees housing foundation along with its registration process has started. So, the federal government employees housing scheme forms 2020 are now downloadable. The members of phase 2 considered on the basis of age and seniority. Member of foundation talk to the media and told them that the members of the phase 1 registration process depend on that person who apply first. On the other hand phase, 2 registrations depend on age and seniority. In addition, the registration form is available on online and Punjab bank official website. Meanwhile, the criteria of the member arrange according to the policy of housing foundation and it will execute from the date of membership.
This housing foundation provides the home for homeless federal employment. Moreover, all information about the policy of the housing foundation is available on the official website.
Federal Employees Housing Scheme Forms 2020:
Simply, Download the Federal government employees housing scheme forms 2020 and deposits it before the last date.
Last Date to Submit Form: N/A
The secretary of Punjab government housing foundation said that we had launched phase 1 of the foundation is August 2009 and completed the registration in Feb 2014, in which almost 36914 members got registered. There are many people got the benefit of this scheme .after completed phase 1 we had launched the phase 2. In phase 2, the total amount of registered members is 111590.
Federal Government Employees Housing Scheme Membership Fee:
The federal government employees housing scheme membership fee detail is clear in the table.
Note: Maybe, now the free are rising.
| | | |
| --- | --- | --- |
| Category | Scale | Fee |
| 1 | 20-22 | 1 Lac |
| 2 | 18-19 | 50,000/ |
| 3 | 16-17 | 25,000/ |
| 4 | 10-15 | 15,000/- |
| 5 | 1-9 | 5000/- |
This scheme will develop in the village area Tamma Morian on the park road. Further, the land is purchased on market price because the administration has issued the authority of section IV.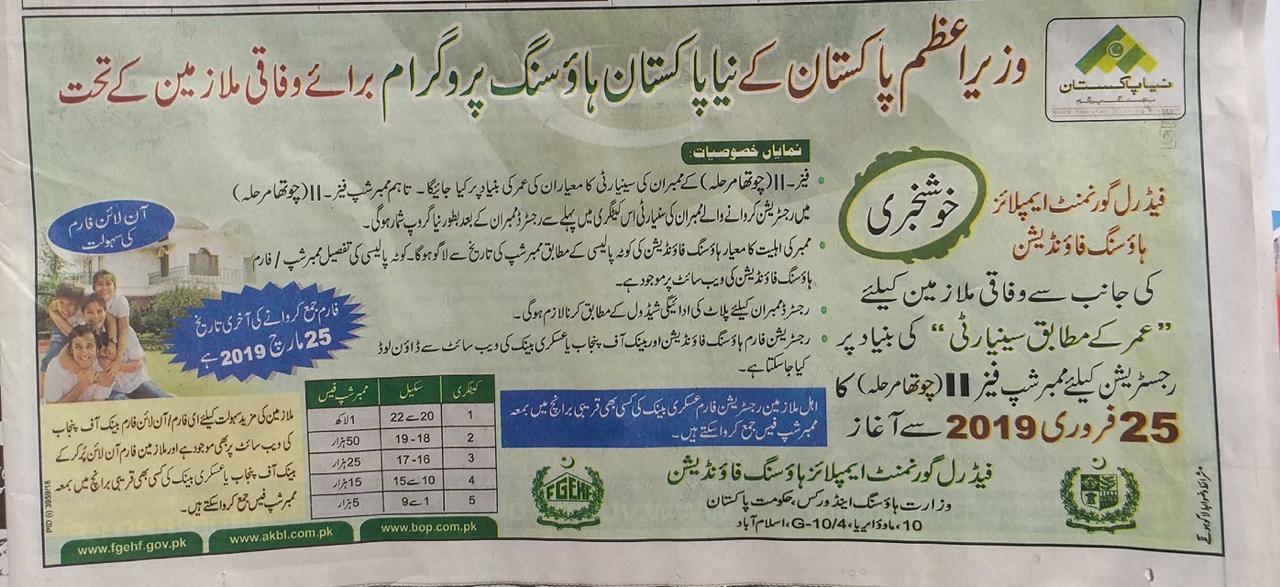 This foundation was developed in 1989 and provides the home, developed plots for homeless federal employment. The vision of this foundation is home is necessary for every human life. Some employment gets not house due to lack of money and some other reason. So this foundation provides a better choice to get home at a low price but Mostly plots are distributed in retired persons.