Currently, this vehicle of Pak Suzuki is ruling on the automobile industry of this country. Because of the latest feature and best performance, both models of Wagon R include VXL and VXR get a strong market position in 2019. On bases of price, this is a most stable car in Pakistan, whose cost depreciation is very low. In short, the reason for its popularity is its best fuel average and solid body structure. Currently, it's not easy to find its brand new piece on company price. For sure one needs to pay an extra amount in term of ownership. Another interesting aspect of this car is that despite such high own, still, its demand is rising up. Furthermore, if a company will maintain its performance, then for sure it will trend for a long time in the local market.
Apart from domestic usage, its one of the successful car for purpose of commercial usage in transportation network company. Up to now, this vehicle has done highest business in this line. Probably this is one major reason that increases its worth.
Let's Review the features of this vehicle:
The very best spec is its best AC, that works perfectly in every heat situation.
Second is its powerful engine, whose performance is like 1300 cc engine.
Next major specs are its power steering and brakes. Both of these additions must play a major role in its road grip.
"Suzuki Wagon R 2019 Price in Pakistan VXL Vs VXR"
Suzuki Wagon R VXL 2019 Price in Pakistan:
Suzuki Wagon R VXR 2019 Price in Pakistan:
Price Chart: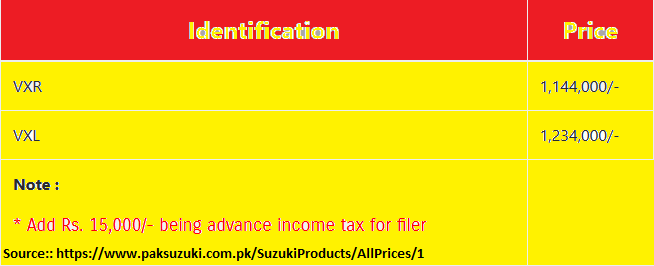 Note: Own is not including in this Price. This is the booking cost.
Basically, the company will launch this new product in replacement of Alto. And no doubt, the performance of Wagon R shows that this is the best alternative. The only problem with this vehicle is its high price. Although the business person will afford it for commercial usage, now it will go away from original car user. So the company will think about it. Otherwise, this is going out of range of an ordinary person who is assets of any brand.