After waiting a period of time PTA take step to block Unwanted Calls and SMS. From here you can find procedure through which you are able to know that How to Report & block Unwanted Calls / SMS to PTA. From a period of time it will arise as a major problem because different peoples used it in wrong way. Especially for ladies and businessman it will really difficult to handle these types of activities. A number of peoples send unwanted sms in free time, they use it as passage of free time; and after attractive offers from different cellular networks these types of activities are increased. On the other side different institutes and companies also used it as advertisement tool that is clearly wrong. So now PTA announced that those types of messages and calls also blocked who use for any advertisement according to law.
How to Report & block Unwanted Calls / SMS To PTA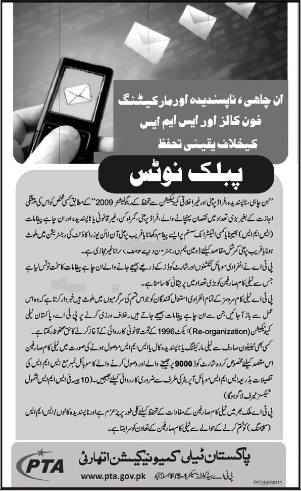 How to Report & block Unwanted Calls / SMS To PTA is given there..
Procedure:
If you wanted to block any number then send an SMS to 9000 with these details; text Content which you received. You also send Sender Cell Number from where you receive wrong sms or call. Your Name and ID Card Number with any other details you want to add regarding Sender.
Charges:
For submission of complain only 10 Paisa Including Tax will be charged for send Text on 9000.
PTA gives notice in a newspaper in which they clearly mention that: According to regulations 2009 it will prohibited to unwanted calls or sms that are UN ethical or use for advertisement. Now PTA take strict action against those person who violet these thongs. So PTA warn those person who doing such things otherwise they take action according to (Re-organization) act 1996. PTA also announced that they always try to work for the benefit of peoples who get difficulty from any side related to blockage and report of Unwanted Calls and SMS . So in future they always step forward in these types of steps.