Replacement of daily home used cookware is making life more easy. Through these innovation, many of major kitchen activities are now effortless. Its ideal sample is automatic rotimatic machine and the Roti Maker price in Pakistan 2023 is quoted by different sellers. Now, one can buy it from few top stores and also has option of online purchasing order. Through online services, this machine is providing you at your door step. As, the advanced rotimatic is yet not making locally that's why it feel expensive. As, any of brand will work on it, then it will come in affordability of every home.
Rotimatic Price in Pakistan 2023:
Different importers set their own Rotimatic price in Pakistan 2023 and approximate of them is 414,000/ Rupees. If someone related came from aboard then he will take it in approx. 387,000/- (3 Lac and 87 Thousand) Rupees.  So, if one has such source then must utilize it.
But if one get it at home then it's also important to knows that how its function. Here we highlight some tips of its using that must help one to use it.
In this machine three chambers are available at top of the machine that is divides as:
One for Flour
Second for Water
Third for Oil
At start just fills these chamber with all of these required things. Then on machine there is option available that how much roti you need. Enter required number of rotis after which according to this command process is start to mixing up this raw material. Moving towards the maximum range then at same time one can order 20 pieces of roti.
After giving command that how much roti one need to get then process will start. Automatically all qualities are add in it and within given time counted number of pieces are going to come from lower portion that is especially makes to get given piece out from it.
Moving to original problem that is aimed to debate here is:
Automatic Roti Maker Machine Price in Pakistan:
As already cleared that it is not common at local stores so in case of direct import, Roti Maker price in Pakistan is cost around 2 Lac and the online sellers demand double then this amount. So if one gets it at door step then one must pay its price close to (2 Lac and 90 Thousand) Rupees
Now, Westpoint also offered a roti maker appliance in just 6,000 Rupees but this is not a advance roti maker that has all the option like of making ata etc.
Company
Price
Dawlance Roti Maker Price in Pakistan
N/A
Westpoint Roti Maker Price
WF-6512: 9,200 Rupees

Wf-6513: 10,000 Rupees

WF-6514: 13,000 Rupees

Kenwood Roti Maker
N/A
Anex Roti Maker Price in Pakistan
AG-2028: 13,500 Rupees

AG-2029: 14,800 Rupees

Philips Roti Maker
N/A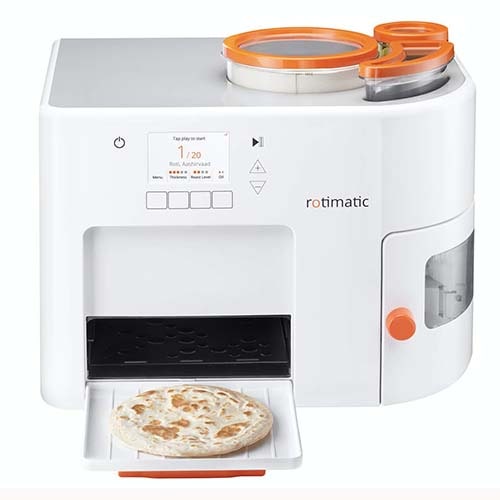 Truly, the original Rotimatic or roti maker price in Pakistan 2023 is certainly high; this is because its manufacturing has not started. Maybe, after seeing demand, its import will increase and these prices will go down. Till then, those who has no issue with the budget can take benefit from its feature.