All the Mobilink customers just prepare yourself for listening exciting caller tunes because Mobilink has launched Mobitunes Star 3 Set Favorite Caller Tunes. Yes you are getting with the right notion! This is yet another thrilling offer that has been newly announced by Mobilink Network. Mobilink has always put the efforts to highlight such offers that are falling within the wants and requirements of the users and this time they have yet again put forward such offer that will surely allow the Mobilink patrons to take fun from exceptional interesting and fun-loving songs at any point of time. Below are some of the main details about the Mobilink Mobitunes offer:
Mobitunes Star 3 Set Favorite Caller Tunes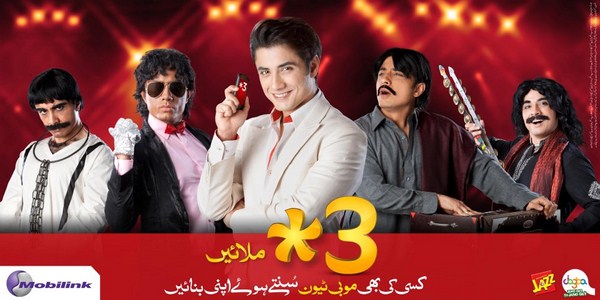 If the person likes any song and he or she wishes to set the Mobitune as their Mobitunes then they can just press the *3 button at that moment.
Mobilink will immediately make the song as your Mobitune caller tune without forcing you to get into any trouble of searching the Mobitune code and activation system.
This offer has been set as free of cost for the post paid customers while the prepaid customers have to pay the charges of Rs. 7.99 plus tax for copying the tune.
Service charges for the prepaid customers will be Rs. 1.2 plus tax for per day whereas for post-paid customers per month rates are Rs. 36 plus tax.
If the Mobilink customers think that they have not activated this offer yet then they can even press *3 and they will in return get the confirmation message. This will identify the fact that now they have made them activated with the Mobitune offer.
As soon as the Mobitune advertisement has arrived on the television screens it has made every single person to get crazier for this offer. The AD is featuring the famous actor and singer Ali Zafar that has even made the promotion advertisement much interesting. Now we have to see that whether this offer will be succeeded in grabbing the attention of other network customers or not. Well if you are a Mobilink customer then don't forget to press *3 at your favorite and lovely Mobitune song for making it your own caller tune. Well on the whole of it we hope that this offer will gain the appreciation of many customers of Mobilink and they will love to listen their favorite songs all the time. PRESS THE BUTTON NOW………