Here we will discuss Qmobile M500 price in Pakistan and specifications. Qmobile is considered to be well known and popular mobile company in Pakistan. Basically, this mobile company is focusing on providing affordable mobile phones with high quality and best features. Every year, Qmobile has launched so many mobile phones for the customers. Recently, Qmobile has launched its latest model i-e Qmobile M500. In this informative post, we will discuss the price, features and specifications of Qmobile M500.
Qmobile M500 Price In Pakistan And Specifications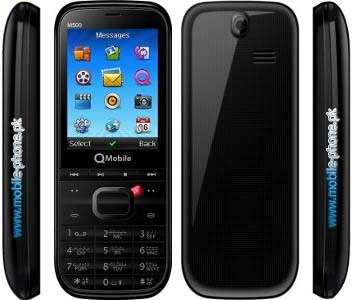 Firstly, we would like to explain important and main specifications of Qmobile M500. The main and important specifications are as follows:
The most important specification of Qmobile M500 is the simple bar shape. This mobile phone is very easy to use. The buttons of this mobile phone are smaller.
Secondly, Qmobile M500 is getting very popular and famous among people because it is specially made for movies and entertainment. For this reason, this mobile phone is also famous in the market as Movie King. In order to support this specification more effectively, the memory of this mobile phone is extendable. We would like to mention that the storage capacity of this mobile phone is 16 GB.
If we talk about the technical aspects then Qmobile M500 has dual sim and it supports two different mobile operators. In this way, users can use the package according to their choice with complete freedom.
Moreover, the screen size of Qmobile M500 is bit small as compared to price. We would like mention that the size screen of this mobile phone is 2.4 inch along with TFT QVGA screen.
Furthermore, this mobile phone has the Bluetooth option for sharing videos, movies and pictures. This is considered to be good option for those people who wants to enjoy entertainment and music.
The last important specification of Qmobile M500 is that this mobile phone helps the users with online support. Users can easily access regarding different drivers and PC suits and it is available on the official website of Qmobile.
Price Of Qmobile M500 In Pakistan:
Now we would like to mention the price of this latest mobile phone. The price of Qmobile M500 in Pakistan is Rs: 3,300.
On the whole after discussing the above mentioned specifications and price of Qmobile M500 it is easy to conclude that Qmobile M500 is the customer pulling device. In other words, it is an impressive mobile phone with affordable price.