Technology is changing day by day and First Change comes is usage of Laptops instead of desktops and now generation is moving towards Tablet instead of Laptop because it is easy to carry out in business meetings for boast up your business in this competitive business world. Other purpose of using these devices is academic one, its best example is Takhti 7 Pakistani Android Tablet. Its features shows that this is an perfect choice for study purposes, and its price shows that its come in range. After that Android Tablet used for entertainment , games etc. it also fulfill this need at optimum Level. This is an Need of upcoming generation and no one is going to worry about Laptops and desktops in that era. Finally things will go in right direction, that is current need of this country.
So all Technology related sectors those are currently focusing upon needs of Technology Lovers are continuously launches new and updated versions of Tablet. In Pakistan where every one cannot effort Tablets it is an big need to introduce low Price Tablet with same outstanding features over there.
This Tablet is under Process from a while and now finally it is available for sale in selected sale point in Pakistan.Its sale Points is limited till Rawalpindi and Islamabad and after that it will be available in other cities as well.
Its Price is extremely low than other Tablets available in Pakistan for sale. It is affordable and almost in range for every Mobile Lovers. Hope so they has bright future.
Note: This is one of first tab that has launched at this level.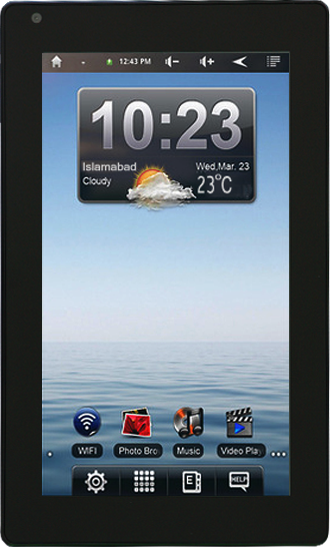 Features:
   A best: Android OS 4.0 (Equipped with Ice Cream sandwich)
    Best Speed CPU
   Handsome internal Memory that is extendable with microSD card Support
    Handsome Display Size that is 7″
    Supported formats are MP3, WMA, WAV, FLV also supports PDF and Texts
    With good result Front Facing Camera
    Built in Speakers
Price in Pakistan Rs. 15,500
Now customer trend will clear further things, that will come in few days. But company has lot of expectation from it, because they always try to show that this is best for upcoming generation of this country.