Warid has one more time arrived with Warid Blackberry Packages for its customers. This Warid has highlighted the Blackberry services for their postpaid customers. This has been surely an exciting and interesting offer from the Warid because it is fully getting matched with the needs and wants of the customers. This service has been categorized into three main types adding with Blackberry Complete, Blackberry Social and Blackberry Internet. All these categories have been revolving around the tempting and fascinating services that are making the patrons more excited. In this article we will be highlighting all these services that have been covered within Warid Blackberry package.
Warid BlackBerry Packages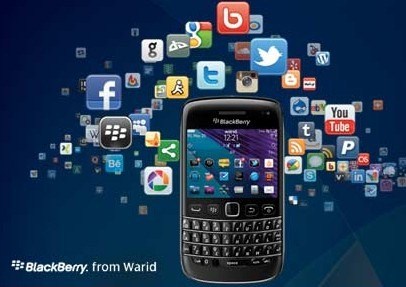 BLACKBERRY INTERNET PACKAGE:
The monthly charges for using this offer will be Rs. 1,000.
The user can even get the chance of making their own Blackberry email account.
They can even use unlimited internet at any instant moment and that too free of cost.
They can get connected with MSN, Google and Blackberry Messenger and in view of social networking they have the sole chance of using facebook and twitter.
BLACKBERRY COMPLETE PACKAGE:
The monthly charges for this offer are Rs. 600.
The customer can even make his or her own Blackberry email account.
They are allowed to use unlimited fast network at nay period of time.
In view of websites they can get closer with MSN, Google and Messenger.
They can even get connect with the networking websites as well adding with facebook and twitter at the speed of 1.5 GB.
BLACKBERRY SOCIAL PACKAGE:
All those customers that are ready to avail this offer they have to pay the cost of Rs. 350 per month.
They will be giving the chance of getting fun from the internet at any time scale.
The internet will be accessible at the capacity of 1GB.
The patrons will be able to take fun from all the social websites adding with MSN, Google and Hotmail.
TERMS AND CONDITIONS FOR THE PACKAGE:
This offer has been just highlighted for the postpaid customers.
For getting activated with Blackberry Complete the user have to submit the additional charges of Rs. 1,000.
For the activation of Blackberry Social the user have to deposit Rs. 500.
If the limit of GRPS exceed then the user will be charged for every 64 KB as Rs. 1.2.